Books by Dr. M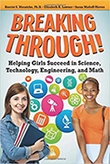 Breaking Through!: Helping Girls Succeed in Science, Technology, Engineering, and Math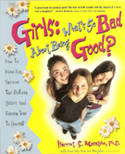 Girls: What's So Bad About Being Good?
How to Have Fun, Survive the Preteen Years, and Remain True to Yourself
Check out our Comments column!
Parents of Kids
— February 25, 2018 —
Our 2-year-old is in preschool (3 hours a day) and is aggressive with her classmates. She scratches, bites, and pushes someone a couple of times a week. As a result, the school has sent her home early and even asked her to not come in one day. The teacher's solution is to put gloves on her to which we refused. How do we help our daughter stop this behavior? What is an appropriate way for the school to handle this?
— Jen
Dear Jen,
Many two-year-olds act out their anger in aggressive ways since they don't yet have the language skills or impulse control to act in more appropriate ways. Putting gloves on her is not the answer since that is punitive and could easily cause her to become even more frustrated. And sending her home early or asking that she not come in will not help her behave in more positive ways. The way to do that is to give her attention when she behaves well—perhaps when she shares a toy or shows kindness toward another child. Also, her teacher and you should help her find ways to express her emotions in ways that are not hurtful to others. Teach her to say, "No" in a firm way to another child who has done something that upsets her, and as she develops further, she will be able to express herself more completely. You might also consider whether she is copying the aggressive behaviors of another child. The final thing for you to determine is whether the preschool your daughter is now attending is the best one for her. You might want to look around to see what other schools are like and make sure you ask how they handle children who act aggressively.

Ask Dr. M. for Advice on Your Problem
Top of Page
— February 10, 2018 —
My three year old son is very smart but he is not very good playing with peers. I understand how important socializing is for children, and I would appreciate some advice about how to help him.
— Brian
Dear Brian,
I appreciate your awareness of the importance of your son developing in more well-rounded ways. While his problem-solving ability will allow him to succeed in many aspects of life, you are right that having social and emotional "intelligence" are also key to having a fully satisfying life with meaningful relationships. While some children seem to have a natural talent at getting along with people, many need a bit more guidance in developing those social skills. Here are a few ideas for you to try now and as your son gets older:
Read stories that provide lessons about sharing, and ask questions or make comments that allow your son to understand their value. Role play situations similar to those you have observed with your son in which he gets to play different parts, which will help him better understand someone else's perspective. Notice instances in which your son behaves appropriately with other children, and compliment him on those actions. So instead of focusing on the negative, you're emphasizing the positive. Doing so will reinforce your son's positive social behavior.
Also, keep in mind that, although you son may be smarter than a typical three-year-old, he is emotionally and socially still three, which means that some of what you might see as immature is actually just typical for a three-year-old.

Ask Dr. M. for Advice on Your Problem
Top of Page
— January 27, 2018 —
My eight year old has become very fearful. It may be because she has heard about recent deaths of family members (although they were only distantly related). How should my wife and I deal with this?
— Concerned Father
Dear Concerned Father,
At your daughter's age, the concept of death has become more meaningful, and that means she understands its finality. That is very scary since she may begin to worry about something happening to close family members. Give your daughter opportunities to talk about her fears in a safe and caring environment. You should not assure her that nothing bad will ever happen to you and your wife and other loved ones, which is how some parents react (but shouldn't). Let your daughter know that it's okay to be sad and worried sometimes (and that you're ready to listen when she feels that way), but also remind her how important it is for her to experience the excitement and love that's around her.

Ask Dr. M. for Advice on Your Problem
Top of Page
— January 15, 2018 —
My 10-year old daughter has decided that she no longer has to take part in any chores at my (Dad's) house—as in none. We (her parents) are recently divorced and should have gotten divorced many years ago (this is a good thing and we are all happier for it). My ex and I have always had a different stance on chores; I am pro-chores, she is "I'm not going to deal with it" or "school is her only job" and lets her sit on the couch watching tv (all day if I don't intervene). We have also hired a house cleaner for many years and my daughter has become quite accustomed to that (not my choice by the way). At my new house, I don't hire a house cleaner. Over the years, it's been a long and hard battle to fight both of them (mom and daughter) to get her to do chores; making her a more responsible/more balanced/adjusted/ready for the world- adult. My ex/her mom doesn't want to deal with the hassle. My daughter doesn't want to do chores in the first place and would rather watch YouTube and play games as her pastime. To state the obvious, this was a huge point of contention. We are also non-spanking parents, but at this point, I'm running out of options. When my daughter tells me point blank: "No, I'm not going to do any chores," my blood boils instantly as I think: "Who's entitled, spoiled, indignant child is this???" Of course, electronics are the first things to land on the restricted list. Ultimately, when all of the privileges are revoked/all options are exhausted and she still says "oh well, not doing them" with a smirk on her face, then what? Beyond spanking (she has never been spanked), what else? I can show her article after article about doing chores and taking on more responsibility, to no avail. I lead by example. She's seen me on my hands and knees cleaning behind the toilets or dusting or mopping floors. You name it, I clean it! The obvious thing to say would be, "Well, shoot, give her a little adjustment time after the divorce." But nothing has changed as we didn't have much of a marriage and certainly didn't do things "together" as a family. Literally, the only thing that has changed is living in different houses and living more peacefully without daily strife and stress. To give a little more background, her mother and I split up, moved apart and moved back in together 2 separate times. Whoa, talk about a bad romance. All 3 of us were over it and divorce was most welcome. Maybe it's her, maybe it's me, maybe it's her mother or the combination of us 3 creates a Bermuda Triangle of strife. Would like some advice on a different course of action. Thank you!
— Don't Want to Spank But
Dear Don't Want to Spank But,
Remove the "but" from your thinking. While I understand that you're angry about your daughter's behavior, spanking is a practice that doesn't work. It just creates resentment and serves as a model of physical aggression to solve problems—not at all what you want for your daughter. You've already given your daughter opportunities to see you as a role model, but that's not enough and may even have the opposite effect of what you intended. When she sees you on your hands and knees cleaning behind the toilet, that may actually lessen her desire to help with chores, since she can't imagine doing something that she perceives as disgusting. Instead try a more positive approach by making chores an activity that you can do together and in a game-like atmosphere. Think about turning cleaning into a contest with music, for instance. She can dance while vacuuming or dusting. You can see who washes pots and pans the fastest or who can unload the dishwasher in less than two minutes. You get the point. Make chores more positive and less like pure drudgery. And make sure the two of you brainstorm fun activities—maybe a movie or a jog—after some of the chores are completed. Finally, talk to her about your values, and how you believe that chores are a responsibility of every member of a household, that you can't decide for her mother what rules are followed in her home, but as a parent, you are doing the best you can to bring her up to be independent and responsible.

Ask Dr. M. for Advice on Your Problem
Top of Page
— December 31, 2017 —
My wife and I are the parents of a four year old boy, and we are not planning to have other children. People keep telling us that we're not being fair to our son by not giving him a sibling. How can we respond?
— Ron
Dear Ron,
People who tell you how many children you should have are being rude since that is a decision you and your wife should be making without input from anyone else. Besides, sometimes it's not a decision since many couple who want more than one child fail to get pregnant or suffer miscarriages. In those instances, telling you that you're being unfair is just cruel. You can either ignore unwanted advice or respond by talking about how close your son is to his cousins or friends. In terms of your son's welfare, focus on providing him with opportunities to relate to peers in frequent and close ways. What's important for his development is that he learn the give-and-take of close relationships, which include learning how to support each other, disagree in a respectful way, make up after arguments, and compromise.

Ask Dr. M. for Advice on Your Problem
Top of Page
— December 16, 2017 —
My daughter is in grade 7 and has been coming home with a lot of homework. The school board only recommends seventy minutes of homework a night for seventh graders, and homework should only be assigned four days a week, but my daughter is getting much more. She spends two and a half hours on homework a day, seven days a week! Due to homework, she has been skipping out on her nightly jog, and she doesn't have any free time or just time to spend with me and my wife. My daughter hates being overwhelmed with so much work, but she hides her feelings. What can I do to help?
— Mad Dad
Dear Mad Dad,
First, talk to parents of your daughter's classmates to make sure everyone is spending that much time on homework. If it's just your daughter, then you can observe her doing her homework one night to try to figure out how she can be more efficient. Perhaps she's doing multiple things at once and getting distracted or she might be redoing her work to make sure it's perfect. If most of the students are spending that much time on their homework, you (and other parents) can ask the teachers how much time they think students should take to complete the homework they assign and compare that with how much time it actually takes. If it's taking the students more time, the teachers will hopefully consider assigning less homework or working with the students to help them figure out how to do the work more efficiently. If the time matches with what the teachers expect, then you can remind them of the school board recommendation, and assuming your daughter has different teachers for each subject, that the time adds up across subjects. Hopefully that will be enough to get the teachers to reduce the homework they assign. Another option (and you can do both), is to focus on helping your daughter cope with how much work she has. Even if her homework is reduced now, she'll have more when she gets to high school, so it's always helpful for her to figure out now how to deal with it. As mentioned above, you can work with her to help her be more efficient if that's an issue. You can also help her not feel so overwhelmed by how much work she has. For example, when she has big projects, you can help her break it up into pieces and set smaller deadlines for herself so she's not trying to get it all done right before the project is due. And you can help her figure out what works for reducing her stress. Jogging is a great option, and if she's finishing her work really late, she can switch to doing it earlier and using it as a break between assignments instead.

Ask Dr. M. for Advice on Your Problem
Top of Page
— December 2, 2017 —
Over twenty years ago, my older sister married, had a baby, then divorced, all before I even met my husband and had my baby. The relationship between my sister and her ex husband was toxic, so we decided to cut him out of my baby's life. Now my child is nearly 13, and she saw a picture of her cousin with her father. She had no idea who the man was and asked me. I said it was her cousin's father and she asked why she has never heard of him and I explained the divorce. She asked if she was related to him in any way and the entire family agrees "no." She is upset by this, and I understand she feels betrayed to have an "uncle" she never heard of. Now I'm not sure if we should keep this man, who has no idea who my daughter is, out of our lives, or allow my daughter to know who this man is. Which way should I go?
— Little Sister
Dear Little Sister,
Since I don't have all the facts about your sister's ex-husband, it's hard for me to determine whether it's a good idea or not for your daughter to get to know this man. If the relationship was toxic only with his ex-wife and he is actually a caring father, then having your daughter meet him (with other adults around) seems like an okay idea. The more important issue might be regaining your daughter's trust since you kept significant information about the family from her, and she feels betrayed. Continue to explain to her that you made the decision to keep him out of her life because you were concerned about her physical or emotional safety, which is what parents do. But you might also want to tell her that you should have shared the information with her once she was old enough to understand. Saying that will help her understand that everyone makes mistakes sometimes, including parents, and that's a good lesson for her.

Ask Dr. M. for Advice on Your Problem
Top of Page
— November 19, 2017 —
I am a stay-at-home mom with two children under the age of five. Sometimes I feel guilty because I don't actually enjoy this life. I know I should be grateful that my husband makes enough money to allow me to be with my kids full-time. But not only do I miss the work but also the friendships with the people I worked with. I want the best for our children, but I'm feeling resentful. Please give me some advice about how to deal with my feelings.
— Alicia
Dear Alicia,
You need advice not only about how to deal with your feelings of guilt and resentment, but about whether you should continue to be a stay-at-home mom when you're evidently not happy with the way your life looks like right now. Keep in mind that mothers who work full-time while their children are young often feel guilty that they're spending so much time away from their kids. You and your husband need to find the right solution for your family. Just because your husband's income allows you the choice to stay at home shouldn't automatically mean that you do that. Consider other options, such as part-time work or working from a home office, in addition to returning to full-time work away from home. Part of what you need to consider is the age of your children, whether they going to nursery school, and the availability of high-quality day-care.
Feeling guilty about your choice is not helpful to you or to your children. What would be much better would be finding an option that allows you to feel satisfied with all of your roles—wife, mother, and productive worker.

Ask Dr. M. for Advice on Your Problem
Top of Page
— November 4, 2017 —
I am trying to figure out if I should let the father of my second child be around her. When I was married I had a child through fertility treatment and was told I would not be able to conceive a child naturally. I divorced my child's dad for being reckless with our money. I dated during the divorce but only when our child was gone for the weekend with her dad. I have sole custody. After 2 years of dating a guy I found myself pregnant again. I kept the baby girl. The father now has 4 kids and I have 2, one child between us. Since he works 2 jobs I am not asking him for child support. He doesn't want a DNA test. He thinks child support will garnish him. I moved 80 miles away to live rent free with my parents. In order to support these two girls. I work part time and attend a University so that I will not need welfare someday. On the weekends, I drive 160 miles round trip so that the girls can see their dads. My ex-husband has all weekends and picks up his girl. On Sunday I drive 60 miles to pick up my oldest daughter and drive 50 additional miles for the baby's daddy. He can only do a couple hours because of the 2 jobs. It bothers me that the child is now 18 months and I have been raising her on my own. He has not told anyone in his family that she is his. He won't commit to me so I dumped him but he still tries to get with me but I didn't tell his family and friends about me for 2 years! He lives with his brother and won't let me in the family houses unless they are out of town! He says he will tell them about the baby and well, it's been about 2 years since he has known about her. He didn't sign the birth certificate. When I tell him I am just going to stop bringing her down for visits, date someone else and just raise her, he gets very angry and hurt, yet he doesn't want to publicly claim her so she can meet her relatives and hang out with them while he works and he can stop by to see her. I need to cut ties with him as far as the relationship goes but I am trying to figure out if I should drive 160 miles round trip and pay for gas and allow our daughter to be kept a secret or just stop bringing her to see him so she wont have to be around his lies.
— Mama Drama
Dear Mama Drama,
The biggest thing to consider in your decision should be what your baby daughter is getting out of the visits with her father (both good and bad) and what she would potentially lose out on if you don't take her for visits with him. If your daughter has become attached to her father, particularly if she understands that he is her father, then it might be harmful for her to be separated from him, especially since she is too young to understand why. But if she doesn't yet have that father-daughter bond, ending the visits may not affect her that much. You should also consider how not having a relationship with her father versus having a relationship with him but being a secret from his family will affect her when she's old enough to understand the situation. Since your older daughter does have a positive relationship with her father, your younger daughter might become jealous if she doesn't have a relationship with her own father. On the other hand, being a secret from her father's family might affect her feelings of self-worth. Obviously, the ideal situation is for her father to be honest with his family. If you explain how being a secret could adversely affect your daughter, especially as she gets older, that might be enough to change his mind. If not, you'll need to make a decision about whether the good outweighs the bad in your daughter's long-term relationship with her father.

Ask Dr. M. for Advice on Your Problem
Top of Page
— October 22, 2017 —
My 8 year old son has had some issues with his mom being gone. She left him at an early age and has come around only a few times since the age of 3. He has suffered from her not being there in his life, and he has some behavioral issues related to a disorder. This has gotten much better, the less he sees her. He has not seen her in over a year. He struggles in school with the behavior problems but does not have any learning disabilities. I am dating now and he seems to latch on to anyone who holds his hand or gives him love in any form. He has bonded with teachers at school and any woman that gives him attention and has even tried to fix me up with his counselor. I am dating now and trying to bring someone into our lives. Both me and my girlfriend are wondering what is best for him. Since I have dated a few women over the last 6 months, he seems confused. Now I am with someone who cares about us and him and we want help in how she should be around him. Do we date for awhile and keep things just us or do we allow him with us and let him be part of our lives? He is so sweet and loving and has picked flowers on walks with us and tried to give me the flowers to give her. He seems to want a mom and is trying to make that happen. How do we handle this and will having a woman in his life help his struggles with behavior at school?
— Dad
Dear Dad,
It sounds like your son really would love to have a mother who cares about him, and he's doing what he can to make that happen. But you should not enter into a serious relationship with a woman solely to give him the mother figure he is looking for. You noted that the woman you're with now "cares about us and him," but you did not state that you feel the same way about her. My advice is to figure out what this woman means to you and how she fits into your life before you give your son hope that she will become a "mom" to him. Also, don't expect his behavior problems to disappear when you're in a relationship. Make sure your son has an opportunity to learn how to cope with his behavioral challenges (perhaps with the help of a family therapist), which will benefit him regardless of what happens with your relationship. When you are in a secure relationship, that is the time to get your son more involved in spending time all together. Since his mother has been so absent physically and emotionally in her son's life, you should avoid adding to his attachment issues by getting him feeling hopeful and attached only to be disappointed if your relationship doesn't work out.

Ask Dr. M. for Advice on Your Problem
Top of Page
— October 8, 2017 —
Is it ok that my 12 year old daughter is helping her mom with online dating? It seems wrong to me that she is included so closely with her mom's personal life.
— Dad
Dear Dad,
It all depends on what kind of assistance your daughter is providing for her mom. It may well be that mom is not technologically savvy and has had limited experience with anything online. Your daughter might be helping her mom navigate a site. If, on the other hand, your daughter is choosing the people her mom will go out with, that is carrying help too far. Also, keep in mind that mom might feel that including her daughter in exploring an online dating site will bring the two of them closer together and may even allow your daughter an opportunity to understand how to better judge people, a good lesson for her future dating life. Your role is to make sure you maintain the kind of relationship with your daughter that will allow her to tell you about anything that is making her uncomfortable. If she lets you know that she doesn't feel right about getting involved with her mom's online dating, then that's the time you step in and gently communicate that information to her mom.

Ask Dr. M. for Advice on Your Problem
Top of Page
— September 24, 2017 —
My 11 year old daughter's mom has recently been seeing a new guy. He is 25 and he keeps taking my 11 year daughter swimming on his own without her mom. I have never met this guy but I don't feel comfortable about it. I obviously can't go accusing him of being a pedophile but am I right for feeling suspicious and what do I do?
— Suspicious
Dear Suspicious,
I understand why you are protective of your daughter since that is what you're supposed to feel as a parent. But think about the information you've given me. You have never met the guy your daughter's mother is dating, so it's hard to fairly judge him. The mother evidently trusts him and has given him permission to take your daughter swimming. And, I assume, your daughter has not given you any information that would make you suspicious about this guy. At this point, just continue to pay attention to what your daughter says and does since it's her safety that's at stake. And you might even mention to the mom—in a casual way—that you are a bit concerned about a guy she's just recently met being in charge of your daughter on his own. A final piece of advice is for you to spend as much time as possible with your daughter so you will notice any changes in your daughter's behavior and also to maintain the kind of relationship that will allow her to tell you about anything that's happening in her life that makes her feel uncomfortable.

Ask Dr. M. for Advice on Your Problem
Top of Page
— September 10, 2017 —
Hi. When my kids are outside on the trampoline, the neighbors' kid comes over to play with my kids. My kids seem like they don't have an interest in playing with him. My daughter told me he does have siblings, but they are all grown up now and the kid doesn't have anyone to play with. My children don't really want to invite him over. My husband insists that they just yell at him and tell him to go home. What do I do? The kid's nine, and we don't want to hurt his feelings.
— Randi
Dear Randi,
Your wrote that "we don't want to hurt his feelings," but It seems as if your family is not living up to that description. Your husband is advocating that your kids yell at him to go home, and your children don't want his company, probably because they have each other to play with. As their mother, you can help them develop empathy for a lonely nine-year-old. Ask them to imagine how they would feel if they didn't have each other to jump on the trampoline with and what they would think of children who didn't share their toys. That doesn't mean that your children always need to welcome the neighbor when they're playing, but doing so some of the time is the right thing to do (but make sure the neighbor parents are okay with that). And remember to compliment your children when they welcome the neighbor child to play with them.

Ask Dr. M. for Advice on Your Problem
Top of Page
— August 26, 2017 —
I'm the father of two girls, 8 and 4, and they are constantly fighting with each other. I would like some advice about what my wife and I can do to reduce their sibling rivalry. It's ruining our family life.
— Peter
Dear Peter,
Here are a few do's and don'ts that you and your wife can practice to help your daughters get along better:
Don't compare them, such as asking, "Why can't you be as well-behaved as your sister?"
Compliment them when you notice them playing together well, perhaps commenting, " I really appreciate how well the two of you are sharing."
Make sure to spend individual time (particularly away from home) with each child to reduce jealousy. They will feel less need to vie for your attention.
Encourage each girl to pursue different interests and to learn from each other.

Ask Dr. M. for Advice on Your Problem
Top of Page
— August 11, 2017 —
My granddaughter is a very good gymnast and recently competed at the State championships. She came in 5th in All Around out of 63 girls ranging in age from 12 to 18 (she is 13). She has wanted an iPhone very badly for a while and her father told her he would get her one if she came in first. She works extremely hard and practices constantly. She even competes when her ankles are causing her a lot of pain. Gymnastics judging is some what subjective and there is only so much you can do. She also recently competed on a team in her science class against 18 other teams and hers came in first place. I know she was very sad at not being able to get her iPhone so I just casually suggested to her mom that I thought that she was iPhone worthy. Her mom said "Not according to her dad." Am I wrong in thinking that they have their priorities confused?
— Ashley
Dear Ashley,
While your granddaughter's accomplishments, both in gymnastics and in science, are impressive, her parents are the ones who should decide when she gets an iPhone. Actually, I don't think a cell phone should be given for a specific accomplishment of any kind, but rather contingent on a level of maturity that shows that she is ready to use the phone responsibly. That doesn't mean that you should ignore your granddaughter's achievements. Rather you can make sure you let her know how proud you are of her—particularly in terms of the effort she had to put in to do so well in both gymnastics and science. Encourage her to feel good about the results of her hard work, rather than focusing on doing the work to attain an unrelated object—in this case, a cell phone.

Ask Dr. M. for Advice on Your Problem
Top of Page
— July 28, 2017 —
I think my 12 year old daughter wrote to you but I can't be sure. Anyway, my daughter tells me about her dress code at school. I thought she was just being dramatic but I read her dress code and found out it is discriminatory. This school has stricter rules for girls than for boys and they punish the girls more strictly for dress code violations. The dress code is also inappropriate for weather as the girls cannot wear shorts and sleeveless tops in even 95 degree weather. I don't know how to help. She and her friends have all gotten in trouble for violating the rules and are too scared to talk to the teacher. What do I do?
— Anna
Dear Anna,
Not allowing sleeveless tops for girls when the temperature is 95 degrees out does sound unfair. Even if the classrooms are all air-conditioned, that rule still does not consider how girls would get to school, assuming some would have to walk.
Fortunately, as a parent, you have good alternatives for making a strong case on behalf of your daughter and her classmates. You might want to start by contacting the school's Parent Teacher Association to see if other parents have voiced (or would be willing to voice) a similar concern. It there is a united group of parents, then you have a more persuasive case. If there is no organized parent group, you could contact parents of your daughter's friends. If you prefer to do this as an individual parent, you should contact the principal's office and ask for a meeting. Find out why shorts and sleeveless tops are not permitted. There may be separate issues for short sleeves and for shorts, as it is harder to regulate length of shorts and some girls may wear very short ones that the school deems inappropriate. The related question is, what are the rules for boys? Find out if the punishments for violating the dress codes are different and if so, find out how they differ and why. There should be no difference in punishment, although there might be differences in the rules themselves based on what boys and girls wear.
It is wonderful that you are supportive of your daughter and other girls' being treated fairly by the school. Whether you are able to get the rules changed or not, taking action to support your daughter should mean a great deal to her and provides her with a lesson in advocacy, an important skill.

Ask Dr. M. for Advice on Your Problem
Top of Page