Books by Dr. M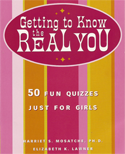 Getting to Know the Real You:
50 Fun Quizzes Just for Girls
Check out our Comments column!
Teens
— December 2, 2017 —
Hey, so I'm just here to tell you about how nervous tests make me. Today, I had a test and I was 1% off of a pass due to how nervous I was. Whenever I have a test, I panic and rush through it which causes me to fail. Do you know how to be calm and normal? Also, due to the fact that I've failed I have to do the test again. However, most of the people in my class have passed the first time. Do you think they will laugh at me? I'm always scared of getting laughed at. Whenever it happens, I break down.
— Georgia, 14
Dear Georgia,
You described two different problems—your test anxiety and your fear of being laughed at by your classmates. You've already figured out that your high level of anxiety is interfering with your test performance. Now you need to learn how to control that anxiety so that your test scores actually reflect your knowledge and ability and are not being pulled down by your rushing through exams. Practice some relaxing deep breathing exercises at home first and then at school. You can even do deep breathing in the middle of a test, which should ease your feelings of anxiety. You can find examples of these exercises on the Internet. You might also study more than usual, so you will feel more confident when you take tests. Ask your parents or teachers for their suggestions about staying calm during tests. As for your concern about getting laughed at by other students, try to ignore their reactions. Remind yourself that everyone is afraid of something and that other students are wrong to laugh at you.

Ask Dr. M. for Advice on Your Problem
Top of Page
— November 19, 2017 —
Ok, so when I was, I don't know—6, 7 or 8 years old, my father left. I don't know why. My mum never really told me anything and I never liked asking. I've never really thought anything of it but recently I've been asking myself why my father decided to leave me. Did he not want me? Was I not a good daughter? It just makes me so angry that my own father would do something like that. And now I feel this sort of hate towards him that I've never really felt towards anyone before, and I know it's not okay because he IS my father, but I just can't help it. Growing up I've seen most of my friends and how they were around their dads and how their fathers treated them, and I don't know—maybe I just felt jealous, maybe I just wondered what it would be like if I had a father? Any advice?
— Emilia, 13
Dear Emilia,
It's too bad that you and you mother have never had a deep conversation about why your father left. Most likely, you would have found out that the reason had to do with the relationship between the two of them and had nothing to do with you. I understand why you feel envious of your friends who had loving fathers—it was definitely something that was missing in your life. You might want to talk to peers who've had similar experiences, others who have had a parent walk away from their families. Consider also talking to a counselor who would be a safe person to whom you could express your sadness and anger with your father. It's not too late to talk to your mom about your need for a father figure. Maybe there's another relative or family friend who can play that role for you. And even if that's not possible, you've learned a valuable lesson about the importance of parenting and open conversations about important issues. Hopefully, you will take that lesson with you as you become an adult.

Ask Dr. M. for Advice on Your Problem
Top of Page
— November 4, 2017 —
So I've been told I look like one of the preppy popular girls but I'm not one of them. I honestly can't stand those girls who are so full of themselves most times. Anyway I'm insecure and I guess that's normal for a 9th grader but I'm unhappy about what I look like, I feel like I have a decent face but I don't like my body. I am also very afraid of being judged, and people who meet me don't think that I'm afraid of what people could possibly be saying behind my back. I don't cut, but I just want some advice to feel good about myself. I'm also a very shy quiet person. Any advice?
— Seeking Advice, 14
Dear Seeking Advice,
The high school years are often filled with peer pressure and identity conflicts. This is just the beginning stage of figuring out who you are and who you want to be; but this can be tough to navigate with all the external pressures of what other students expect. It sounds like you are trying to conform to a persona that does not actually represent you in order to survive and avoid being judged negatively. You are definitely not the only one going through this. Learning to feel good about oneself involves lots of practice, so try the following:
Practice looking in the mirror and focusing on the things you do like about yourself instead of what you don't. Remind yourself with sticky notes around your room listing all your great features and qualities. Body image is very subjective and often distorted compared to reality. However, if you are genuinely concerned about your health and want to make changes, consult with a doctor about whether changes need to be made, and learn about healthy strategies to achieve a mutually agreed upon goal.
Practice self-esteem building by increasing interactions with people you feel comfortable around first, and with whom you can be yourself. Immersing yourself in extracurricular activities you enjoy is another great way to boost your confidence. While this may involve stepping out of your comfort zone, chances are this fear will be overcome quickly, as you begin to meet people with similar qualities and interests. Don't be afraid to be yourself—it's a great way to weed out the people who aren't worth your time and thoughts. If people judge you for that, chances are they are deflecting from dealing with the things they don't like about themselves.
Practice cognitive reconstruction: the act of changing negative thoughts. If you type "cognitive restructuring exercises" into Google, you'll find plenty of resources and practice activities. Chances are the negative things that you believe people are saying behind your back are coming from your own insecurities and not even true. I've learned from personal experience, that people usually don't care as much as we think they do. Again, if they are judging you, it says more about them than you.
You also might want to consider therapy—either group or individual—which will give you an opportunity to discover and develop your identity, but also explore where your fears come from and ways to deal with them.
— Kim
Ask Dr. M. for Advice on Your Problem
Top of Page
— October 22, 2017 —
Hi! Recently I have been feeling like there is no point to my life. I recently left a school where I was bullied and am being home schooled until the start of the new academic year, when I am moving to a new school. My mum works very hard to look after me and my four siblings and my dad works long hours. I don't really have anyone to talk to because all of my siblings believe that I am being favoured because I am being home schooled. I can have had a perfectly normal day then suddenly be sobbing my heart out on the floor, or having a panic attack in the bathroom, finding it hard to breathe. I don't really connect with anyone of my friends as they are all rather shallow and love to talk about stuff such as crushes and dating. I have no interest in such matters and find that I am often excluded whenever I meet up with them. I just wanted some advice to cope better as I feel awful about myself. Also I just wanted to say I think it's great how you are running this for everyone who wants advice.Thanks!
— Michaela, 14
Dear Michaela,
For a 14 year old, you seem to possess a good sense of yourself. You also seem to be a deeply thoughtful person. Perhaps you may even be tempted to think far more, far longer, and more analytically than the situation may require (over-thinking). Sometimes, things that seem to be a waste of time, like dealing with all of the social challenges of being in school where bullies often lurk, are really just opportunities to put all of the pieces of the Identity puzzle together. Experiences begin to help you to decide what you identify with and what you don't. This is how we recognize that parts of our personality are more fixed, while other parts are more fluid or temporary. One good place to read about personality is a site called personalitypage.com where you can read about the various types of personality combinations that are a general guide to the type of person someone is. The really cool thing is that experiences can be a change factor! Someone who is shy can discover they love acting because they get to act like people who are not shy sometimes and suddenly find shyness much less of an obstacle.
You seem to have a good idea of who you are and what you like and don't like, which is awesome! You shared that you feel out of place with your peer groups and with your siblings, and that makes you feel anxious and lost sometimes. This is a completely normal reaction when searching for a place to belong. This is where your power comes in. You get to explore and determine what is important to you and that means you have to broaden your horizons, especially when you have made a major change in your life like leaving a particular school. Finding a sport, hobby, charity, etc. that requires expanding your base of experience interacting with a variety of others is an important part of finding the best fit for your interests and relationships. And keep an open mind about your old friends, because just as you are changing, so are those around you. Patience and effort are two big parts of how you will find activities you enjoy and people you enjoy sharing experiences with. As you focus on growing and learning rather than anxiety and isolation, you might be surprised at all the new things you can do!
— Amy
Ask Dr. M. for Advice on Your Problem
Top of Page
— October 8, 2017 —
I am a 17 year old male and I have three older brothers. I love my brothers but I don't like any of them. I'd like to let them know how I feel but I don't want to hurt anyone's feelings. My mom would like for us to spend more time together but tensions might flare. I know that it is important for families to be close but I am not sure if I can bring myself to develop a brotherly relationship with them. Do you have any suggestions?
— Blake, 17
Dear Blake,
It sounds like you do have a brotherly relationship with your siblings, but it's not a close one. You say it's important to have a close family relationship. Do you want one? And do they? Competition is very common among brothers, and sometimes that's hard to deal with. Keep in mind that all relationships take work, and relationships with brothers ebb and flow depending on where everyone is in their lives. Do the four of you have any common interests? That would be a starting point for an activity or simply a discussion. Another idea is a family hike, which can be a way to have fun and bond. All of you could also go have dinner in a neutral place. Research studies have indicated that even when siblings don't particularly like each other, they typically will support each other when they're needed. Since you love your brothers, it's worth that extra effort to find ways to connect, at least occasionally.
— Mrs. B.
Ask Dr. M. for Advice on Your Problem
Top of Page
— September 24, 2017 —
Hi! First off, I just wanted to let you know that I came upon this website a few years ago and it has helped me quite a lot. Thank you for all that you do. Here is my situation: I have been in the same choir for almost 9 years now. My friends there are like my family and I love the director and her style of teaching. However, my mom and I are probably going to move to another state soon and our new place is two and a half hours away from the place where my choir rehearses. Because of this, I will most likely have to leave the choir and my friends, which will break my heart. I have been looking up choirs in the area to which we will be moving, but I'm scared that I won't be satisfied with the music and that I won't have as many close friends as I did in my old choir. This choir is the only reason my mom and I haven't moved out of state sooner. I feel like I'm going to lose a part of myself if/when I leave. Please advise me on how I can cope with this.
— Worried Choir Person, 16
Hello Worried Choice Person,
I can absolutely understand how upsetting it is to leave behind the choir that has been a central part of your life for nine years. As you said, you will be leaving behind dear friends and the spirit that comes from creating beautiful music together. However, I think some of the feelings you have experienced being a member of this special choir will stay with you.
One thing you can do before you leave is to record some sessions of the choir practicing, and also record a performance. It will be a treasure to have those, and you can listen to them and recapture the feelings when you sang as part of that group. Even though there will probably be a tinge of sadness when you listen, you will also appreciate anew the special qualities of the choir as a whole and hear the contributions of different singers, including yourself.
You are wise to have looked up possible choirs you might join in the new area you are moving to. You should definitely try out a few options to see where you feel most comfortable as far as the type of music, the personality of the choir director, and the members of the choir. I suspect each choir has its own "personality" and you have to find the one that best matches your own OR you think will bring out things in you and possibly challenge you in new ways. You will not quickly be able to replace friendships and the feeling of belonging that comes from nine years of experience but you will start on that path. A year from now, once you have selected a new choir and become an involved participant, you will likely feel the start of new friendships developing and will be experiencing new musical adventures.
Keep in mind that with FaceTime and Skype, you can see and talk with your old choir members, and since you are only 2 1/2 hours away, you might be able to visit in-person periodically.
I am so glad to know that the AskDrM site has helped you in the past, and wish you the very best in your new home.

Ask Dr. M. for Advice on Your Problem
Top of Page
— September 10, 2017 —
About 2 months ago I began texting a girl who goes to my school. She's beautiful. I had a hard time getting the nerve to talk to her at school, but I eventually texted her and asked her out. She said no, saying that she didn't feel the same way. I was crushed because I thought things were going really well and we have a lot in common, but I figured that I should remain friendly because I don't want to be rude and cut her out cause it's a small school and I see her frequently. We still text or snapchat somewhat frequently. I thought I was moving on, but we just had a school dance several days ago and she looked amazing and I realized that I was not over her. I don't know what to do. It feels like I don't want to move on. Is there any advice that you have for me?
— TW, 17
Dear TW,
I'm sorry you're dealing with this kind of stuff, which can be messy and leave you feeling unhappy. I think part of your problem is that you keep talking to this girl, which is not giving yourself a proper chance to move on. I'd suggest then that you stop communicating with her, but be sure to let her know why so she'll understand and to avoid any problems with your mutual friends. Once you've made a cleaner break, you might be able to feel more comfortable truly moving on and starting a relationship with someone new.

Ask Dr. M. for Advice on Your Problem
Top of Page
— August 26, 2017 —
So I have been with my boyfriend for about a month even though I have known him for about 2 years and he is quite close with his ex and they do the same activity and coach so they are spending like 6 hours a week together and they seem really close and he has hearts by her name and everything and I know it sounds petty but I have known him longer than he knew her and he still trusts her more than me and it's getting to the point where I feel like even though he's dating me I feel like I'm competing with her all the time. I like him a lot but I can't carry on feeling like I'm the second option and he always goes on about oh yeah she still loves me and sends me all these screenshots of their conversations and I'm like what is the point and I have told him about how it makes me feel and he just carries on doing it and it's just getting me really down Thanks in advance if you get to respond.
— J, 15
Dear J,
From what you described about the situation with your new boyfriend and his ex, it sounds like the two of them have not truly ended their relationship. He could be trying to make you jealous, but that kind of manipulation is more destructive than constructive. If you really like him, make one more attempt to let him know directly how hurtful it is when he goes on and on about his ex's feelings for him. A good relationship should not make you feel down but should make you feel loved and valued. If he cannot make a true commitment to you, you might need to give him up and start dating someone who is a positive force in your life.

Ask Dr. M. for Advice on Your Problem
Top of Page
— August 11, 2017 —
So, my boyfriend tried to commit suicide long before we got together. It scares me because I like being friends with very happy people and he is usually happy but I feel like I don't know him anymore. Can you help me try to figure this out?
— Paula, 15
Dear Paula,
It is totally understandable that your boyfriend's history of suicidal thoughts and actions has you feeling concerned. Most people realize that suicide is a serious mistake and solves nothing. We all make mistakes throughout our lives, but suicide is one of those permanent ones. There are some details that you didn't include, which may lead me to make some assumptions.
It seems your boyfriend trusts you enough to share his past and that is a good thing. His history might make you feel as though you can't completely trust him or how he might react to tough times. Also, if you are attracted to happy people, I can only guess he must be pretty happy these days. If he has moved on from whatever events had caused him to have suicidal ideation, then my advice is to encourage that. Observe how he handles challenges and provide him with support and optimism if you feel it is necessary. Sometimes when we learn good and bad details of someone's history, it naturally paints them in a different, but not necessarily bad, light. I personally admire anyone who has found better ways to cope with stressors after they learned the hard way about how NOT to handle stress. It may indicate a degree of strength, rather than weakness, and that is very admirable. I would suggest talking more about your honest feelings and allow him the opportunity to share the wisdom he seems to have gained through his experiences. If you ever have any fears that he might feel suicidal again, seek interventional help through a resource such as https://suicidepreventionlifeline.org/
Finally, about your feeling that you don't know him anymore, I would say that you actually know him better now. Nobody is perfect. We all have aspects to our history that others might find questionable, even worrisome, but a good relationship is built on trust and communication, and your boyfriend seems to have those two important factors going for him.
My best to you both,
— Amy
Ask Dr. M. for Advice on Your Problem
Top of Page
— July 28, 2017 —
I'm a 17 year old girl. I've been through a lot. I live in a country that I don't like and there's nothing good here, not even education. There are no clean places, streets or hospitals. Anyway I asked my family if we could go somewhere else and they said that that I'm exaggerating. I have nothing to do here, not even hang out with friends. I don't have confidence in myself anymore. Should I travel alone and be happy or stay with my family that makes me happy when I'm not thinking that I can't make it without them? But I'm nothing here. In fact I can be something good as I've learned languages by myself and I'm good at school and at sports.
— Rand00, 17
Hello Rand00,
I think it's best to talk with an adult you can trust, someone who can understand how discouraged you feel. At this time you need support from someone who can help you sort through your feelings. Also, sometimes we have to endure difficult situations until we can change them. When I was young I wanted to move out because my parents were always fighting. I had to stay and tolerate it until I was old enough to move out and take care of myself. At times, we have to find the bright light even in the darkest room. Try to think about the things you do like more than the things you don't. It always helps me to cope when I think of people who are in much worse situations than myself, and that might work for you. In a couple of years you will be graduating from high school, and you might even want to consider going away for college. In the meantime, prepare yourself by continuing to do well in school and using sports as a way to reduce your stress.
— Velben
Ask Dr. M. for Advice on Your Problem
Top of Page
— July 18, 2017 —
There are many innocent teenagers out there but I clearly stand out. My parents never gave me "the talk" and I found out how babies were made through a human biology book a few months back. In addition, I rarely curse as I feel teenagers curse to fit in or look cool or they just do not have parents who discipline them well. I am often the center of jokes because I fit my racial stereotype (smart, makes straight As and avoids talking about anything sexual). Recently, a close friend told me she had an idea of posting something on Instagram about me. It was picture of a shocked face that she captioned, "How I Would React If Kajol Kissed A Boy." It wouldn't have bothered me if she told me privately but she didn't. She said it loud enough for surrounding people to hear. Everyone around kinda just stared at me as I got red and she just went on. I was pretty embarrassed and I told her that. She apologized (which I appreciate) but no matter what, everyone will still think I'm innocent. I still haven't gotten over the incident (I tend to worry a lot, sorry). However in my opinion, I feel there is nothing wrong with being innocent. Focusing your teenage years on the future is very important and striving for a good education is more important than having sex and dating in high school. Unfortunately, I am bullied for my "innocent" beliefs and I always will be. So what do you think?
— Kajol, 15
Hi Kajol,
Congratulations on working to get straight A's! Even if you are smart that is no guarantee of such excellent grades. It is wonderful that you know yourself well enough to figure out what is most important to you. As a teenager, it takes courage to decide not to curse or talk about sexual matters, and to be proud of your innocence. "Looking cool" is often done by kids who want to fit in and do not know themselves well enough to realize what is most important.
It is unfortunate that your friend decided to tease you in a loud voice. Since she is a close friend, she should have known you would be embarrassed and hurt by her doing that. I am glad she apologized but if she does something like that again, I think you two need to have a serious discussion. Sometimes, friends can try to push boundaries and be more hurtful than intended.
More concerning is the fact that you are bullied at school for your beliefs and behaviors. If this is serious and making your school experience unpleasant or frightening, you should absolutely tell an adult at the school (a trusted teacher, school nurse or guidance counselor) and/or your parents. If you feel it is minor and does not affect you because of your strong confidence in yourself and your values, then just keep aware of the bullying as a background issue. But be sure to talk with someone if you need support. It is important at every age to have friends who understand and appreciate you. Also, you can learn about the kind of person you do NOT want to be, and when you are older maybe you can help someone younger in a bullying situation.
I think you are a strong teenager who has her eyes on the future, and wants to get a good education towards enjoying a successful future. You are unusual in a wonderful way, and should continue on your path.

Ask Dr. M. for Advice on Your Problem
Top of Page
— June 30, 2017 —
I've already messaged you, but I never got anything back. Anyway, my friend is 15, and she smokes cigarettes, smokes weed, and drinks alcohol. I've tried to get her to stop, but she won't. She has never encouraged me to do this, and she only does it because people pick on her. Also, she changed schools because of how people treated her, so I rarely see her now. Whenever she talks about doing this stuff in texts or through FaceTime and stuff, it makes me sad, and the same thing happens when I see her smoking on her SnapChat story. Anyway, I just need some kind of advice on what to do. I don't want her to get in trouble, but I also want her to be happy and healthy. Please contact me ASAP. I've already told her the risks of doing this stuff, but she just won't listen. Please help, I'm very worried. She's an amazing friend, and I care about her very much.
— Avery, 15
Dear Avery,
I understand how difficult it is when you have a pressing problem and don't get a response on this site. But try to keep in mind that we get many thousands of letters, and we are only able to post five or six answers every couple of weeks. However, I do have some advice for you based on the question you recently asked about your friend.
It's very hard to see a friend engaging in self-destructive behavior, but there is really nothing more you can do aside from what you've already done. If you feel that your friend is very depressed or suicidal, then I would suggest that you contact her family. The best you can do is live the kind of life that feels right to you, which includes taking care of yourself while making the time to be a concerned, caring friend to others. Hopefully, your friend will eventually hear your words of concern and take them seriously.
— Mrs. B.
Ask Dr. M. for Advice on Your Problem
Top of Page
— June 17, 2017 —
Recently at my school, teachers have been giving athletes like me special treatment and I feel it's so unnecessary. For example, I was late to class and the teacher gave me more attention instead of being equal to all of her students. She told me, 'You were on time," which everyone knew was a lie! I complained about her special treatment of athletes and she maliciously accused me of being disrespectful and derogatory. All I told her and the other teachers is that athletes need to be treated like regular students. I felt offended that I was put on a pedestal rather than face the same consequences the others face. In addition, other athletes who misbehave also get away with a slap on the wrist. How can I reach out to my school to end special treatment of athletes? I strongly feel it is a form of bullying!
— Athlete, 16
Dear Athlete,
I get where you're coming from: you just want to feel normal, like everyone else. So the best advice I can give you is to talk to someone in power at your school, like your principal or your counselor/adviser, to see what they can do. If they don't do anything, persist. If nothing works there, go talk to an adult you trust, like your parents, since they may want to support you in your fight for equal treatment for all students. You might also want to continue being firm with your teachers, explaining that you don't deserve or want special treatment and simply want to be treated just like everyone else.

Ask Dr. M. for Advice on Your Problem
Top of Page
— June 3, 2017 —
I am a girl fourteen years old. My hobby is singing. I want to try my luck in singing by joining the Indonesian Idol audition in my town. When I told my parents about my wish, they forbade me. I was very disappointed. I feel that my parents did not give me a chance to develop my talent. They told me that I should have studied hard at school. I am very confused now. What should I do?
— Hanna, 14
Dear Hanna,
Explain to your parents that you can pursue your singing hobby while still spending time doing your schoolwork. But then you actually have to deliver on what you promised. Put together a realistic schedule that combines time to focus on your singing (including lessons, practice, and auditions) and also provides enough time for you to do well at school. Give your plan a bit of time since your parents will probably be most convinced when they see that you are able to achieve high grades while also dedicating time to developing your voice. Keep in mind that even if you do not get selected for Idol or another singing competition, learning how to balance multiple priorities is an important lifelong skill, and you will have had experience doing that.

Ask Dr. M. for Advice on Your Problem
Top of Page
— May 21, 2017 —
I am writing to you because I don't know what to do! I have been dating the same person for six months now. All our friends are talking about sex and how we must be 'doing it.' My girlfriend is really sweet and she means a lot to me. I spend all my time with her and things are getting pretty intense. I don't know when is the right time or what I should do. I see people in the media having sex right away. I can't talk to my friends as they don't come around anymore. I read your website all the time and think that you talk candidly to teens. Please help!
— Tyler 15
Dear Tyler,
First, keep in mind that what you see depicted in the media, particularly on TV shows and in the movies, is not likely to be related to what generally happens in real life. Writers have made these characters entertaining enough to keep viewers engaged. That's not the way you and your girlfriend should be making decisions about sex. Second, the two of you have only been dating for six months. Although you say your relationship is getting pretty intense, you do not say that you are in love. It seems to me that you are feeling pressured by what you think is happening to other couples rather than by what is right for you and your girlfriend. Waiting until you are both a bit more mature and really certain about your feelings is probably the right course of action. You and your girlfriend need to make sure that both of you are physically and emotionally ready for the commitment and consequences of sexual activity. Talking to a parent or a counselor might also be helpful in guiding your decision.

Ask Dr. M. for Advice on Your Problem
Top of Page
— May 5, 2017 —
Hi, I am 13 and now suddenly growing up is a big deal. It has just happened, if you know what I mean. I cry now in my closet hugging my favorite stuffed animals because I just don't want to grow up. I don't want to tell my Mom because I am super embarrassed about it. But I really need help. I want to see a psychiatrist or something but I haven't told my Mom that I need professional help. I know this probably sounds stupid, but I'm really upset about this whole growing up thing. I'll cry myself to sleep about it. The only person I've "talked" to about it is my favorite stuffed animal. My Mom knows that I'm "growing up" and is trying to help me, but it's just not working. I've been playing with ALL my old toys lately, wearing butterfly shirts and watching cartoons. I'd do ANYTHING to be 8 again, before moving from the house that holds all of my memories, before I started growing up, before Middle School. I still have a nightlight, sleep with 10 million stuffed animals, and play with all my Barbies. I refuse to go to school dances and struggle in math. I freak out every day because I just don't want to grow up. I want to play on playgrounds forever. I want my Mom to still read me bedtime stories. I just want to be little. Please help me!
— Growing Up, 13
Dear Growing Up,
The struggle you describe in your letter is real and is in no way "stupid," and you are not alone. I sense from your words that you seem to be experiencing some natural fears and anxieties about change. Change is one of the most challenging parts of being alive. From the minute we humans come into being, we are rapidly changing, and we have no choice but to change. Everyone grows at a different rate. Some people grow tall really early while others don't get a growth spurt until later, which can sometimes cause feelings of concern and fears of not being like most others. We all just want to fit in and feel normal. Sometimes, change is a difficult challenge but happens whether we like it or not. Our power in these times is how we choose to react to the changes.
You are experiencing very normal fears about the rapid development that occurs in adolescence. Part of your growth in this phase includes defining your self-identity. In your letter, you express a need to hold onto some of the things that are still important to you. Talking to stuffed animals is a younger person's way of thinking out loud. Right now, it seems you are feeling stuck between how you identify yourself, how you want to communicate, and how to move forward while holding onto parts of your past.
You say that being eight years old was a great time in your life. That time included play, special time with your mom, and working out your thoughts by talking to stuffed animals. There are many ways that these good parts of being eight can still be a part of each phase of your life. For many people, talking with stuffed animals turns into writing in a diary, which many people refer to journaling. These are different ways to organize and understand our thoughts in a way that helps us figure things out.
You still crave that same closeness with your mother that you felt when she read to you when you were smaller, but you might feel it through different ways by trying to include one-on-one moments in your relationship; such as shopping, watching movies, or reading the same book and then talking about it. You just need to figure out what works for you and your mom. That is surely something you two can figure out together.
In time, as you will continue to grow and change, your identity continues to form through your experiences. I encourage you to make it a goal to at least try new things, like a school dance, as you go along. Just think about what dancing is: It is really just a fun way to play with music! Life has tons of experiences directly linked to play. Sports is a great example. Some grown-ups get paid to play the same games they played when they were eight years old. We adjust to new phases of our life by learning new skills, which includes getting back up and trying when we fall. Every single person who tries a new game, sport, or hobby learns how to do it before they do it well. Learning often includes trying new things and determination to keep trying.
By reaching out, you are actually showing how mature you are becoming as you grow. You are growing beyond just talking your thoughts out to a stuffed animal to sharing them with another person in order to gain understanding. As a mom of grown kids, I can promise you that mothers never forget memories of their children as babies and think about it when relating to that same baby who is now an adult! Growing up doesn't mean giving up all of those memories or even parts of who we are. I bet your mom remembers what she felt about growing up and would share it with you. My children will always, in some way, be my babies. And your mom is always your mom, but you will learn to love and interact with her in many more wonderful ways as you grow and are able to relate on more levels. This happens not only with parents, but with siblings, friends, and others. Growing up gives us more ways to love and experience life and people. This growing up thing can be hard at times. It is one of life's biggest changes. As you grow, I encourage you to find new ways to bring the innocence and security of childhood along with you while your experiences expand, allowing you to enjoy new things that remind you of what you loved about being a child.
— Amy
Ask Dr. M. for Advice on Your Problem
Top of Page
— April 14, 2017 —
Hello. I asked my girlfriend out about a month ago now. We've been on a couple of dates and she's been over to watch movies. My problem came from my dad. He told me that now is not the time to be in "an exclusive relationship" and encouraged me to not be afraid to go out with other girls. I was appalled by this as I see it as cheating on my girlfriend but I didn't say anything. He seems very opposed to me having a real girlfriend and wants me to just go out as friends. What should I tell him?
— Matt, 16
Dear Matt,
Tell your dad exactly how you feel, that you met a girl you really like and that both of you have decided to make your relationship an exclusive one. Make sure he understands that being in this kind of relationship doesn't mean that you are planning to marry this girl, but rather that you like her enough not to want to date others at the same time. Many teens go through a series of exclusive relationships, while other prefer to date two or more people at the same time. No one way is right, but what is important is that both parties understand the "rules" of the relationship.

Ask Dr. M. for Advice on Your Problem
Top of Page
— April 2, 2017 —
I'm currently in 8th grade and I'm taking Spanish 1. The class is very hard for me and the teacher makes the class harder. I had the class in 7th grade but it didn't count and I took it for a short period of time. The one I'm taking now is a credit class. I'm on the verge of failing the class and not getting the credit. I want to switch the class. I've stuck with it for 2 semesters and I don't think I can pass. My parents tell me to stick with the class because I still need 3 years of foreign language but I plan to take those in high school. I really don't want to be in the class. Recently the teacher of that class came to find me and told me it may get hard but she thinks I'll pass. I really don't like this class at all, especially with it being a speaking class and I'm a really shy kid. I don't know what to do. I got a 71 on the midterm and I'm afraid I won't pass the final at all. And my grades continue to shift up and down. I have no idea what to do about that class because honestly it's not working for me.
— A, 14
Dear A,
Of course we all want to make ourselves and our loved ones proud, but sometimes it's easier said then done! Taking such an advanced class so early in your education says a lot about your character. With that being said, if you were to leave this class that doesn't lessen your quality of being a great student. Sometimes things can become too challenging and we need to take a step back and take a break from them. Since you are starting so early with your foreign language credits, you could speak to your parents about continuing language when you get to high school. However, it also sounds like everyone has a good amount of confidence in you. If you want to challenge yourself, go for it. Demanding more of yourself might help you to break out of your shell. You could ask your teacher for an extra credit assignment or even tutoring hours if you wish to continue with it. If not, keep in mind that you have four years of high school to get the credits you need.

Ask Dr. M. for Advice on Your Problem
Top of Page
— March 18, 2017 —
Hi. I' m 14 and I feel like I am a worthless human being because I am overweight. I know you may think what I said is stupid but I know what I am going through. My friends are not really helping. They even tease me about my size and the stupid pimples I have on my nose but being me, I always cover everything up with a smile. Then, when I get home, I always bawl my eyes out and that's when it starts. I become a bitch to everyone and I keep reminding myself that it's their fault even when I know that it's not. I even tried purging but I didn't feel good about it so I stopped. My family also doesn't help me feel good about myself. I tried to open up to my mom but all I got in return was laughter from her and my two brothers. I really cried that day. They didn't know how they hurt me. I really think I'm depressed. I checked the internet to find out whether it was bipolar/atypical/psychotic depression but I'm not sure of myself. Please help me!!!!
— Need Help, 14
Dear Need Help,
What you are experiencing is very common, and probably doesn't mean you have a severe mood disorder. This is your reality, and that is often difficult for family and friends to understand when they aren't in your position. It seems to me that the tough shell you have presented to the world gives others the impression that you are confident enough to handle the teasing. More times than not, they do this to boost their own self-esteem or impress others at the expense of someone else, which says more about them than it does about you. So don't take it personally, as they themselves were likely subject to the same behavior at some point.
I commend you for trying to talk to your mom about this. It took a lot of courage to express your feelings, and for that to be thrown back in your face must have been extremely discouraging. However, I advise you not to give up. When you are made fun of, say something like the following to your family and friends: "I'd actually appreciate it if you guys don't say that anymore; it may not seem like it but it actually does hurt my feelings." Asking them why they think their hurtful comments are okay to say to you may also give you insight into their intentions, which may not be malicious as they seem. This tactic might also give you an opportunity to put boundaries on the level of teasing towards you, and tell them better ways of approaching a situation. In order to address the depression, I recommend that you seek out a counselor who can help you improve your resiliency and self-esteem. You can also request that your mother join a session or two so that the therapist can help facilitate effective communication about what you are experiencing.
Keep in mind that being an overweight teen with some pimples on your nose doesn't make you worthless or stupid; it makes you human. I would normally tell you to own the things you can't control and to make the best of it. However, weight and blemishes are features you can change, and a healthy diet (not purging!) as well as proper skin care might help. Once you focus on solutions to your problems, all the positive attributes you have—the great friend you are and the various things you are good at—a few extra pounds and some blemishes won't matter. I encourage you to also participate in activities, such as exercise, that will boost your confidence and provide an outlet for all of the overwhelming emotions.
— Kim
Ask Dr. M. for Advice on Your Problem
Top of Page
— March 5, 2017 —
I have always been ahead in my classes, and it seems like my school noticed because last year they had me skip a grade, and now I'm taking high school classes. If that isn't enough, they thought I was too ahead for those, so now I'm taking college classes as well. I'm doing fine in the courses, but it's made me extremely overwhelmed, to the point that work is all I think about. I'm already taking anti-anxiety pills, but even though I've improved, nothing is enough to calm me down. Please help me!
— Obscenely Overwhelmed, 13
Dear Obscenely Overwhelmed,
I can only imagine the work load you are carrying on your shoulders daily, and I commend you for being able to juggle all of those classes. Unfortunately, others may be seeing your success and intelligence as an indication that you need to be further challenged academically, not realizing the toll it is starting to take on you. It is very important to recognize when you've reached your limit so you can avoid the risk of getting burned out. That can happen as a result of increased demands and lowered sense of control or it may be caused by a lack of social support at home or school. Burnout is a common problem and can lead to depression, anxiety, poor work performance and decreased motivation if not taken care of.
There are many ways to prevent or reduce burnout. You might consider deep breathing, guided meditation via apps you can download on your phone ('Calm' and 'headspace' are my personal favorites that I suggest to clients), reading a fun book, cooking, playing a musical instrument, drawing, or taking a walk. Self-care is vital. Another way to cope with feeling overwhelmed is to chunk your work into manageable pieces, while making sure you include five to ten minute breaks every hour. Allot a specific amount of time for worrying or thinking about work, and then another time frame when you give yourself permission to chill out and think of something non-work related (or not think at all). You should also reward yourself when you get tasks done, no matter how small. Additionally, make sure you have someone with whom you can talk about your anxiety, who can just listen and help you through the endless thoughts of work. Having trouble sleeping? Try writing down all your thoughts in a journal before you go to bed. By transferring thoughts out of your head onto paper, you are not only clearing your mind, you are also allowing yourself to sleep and save those thoughts for later. Lastly, talk to your school and your parents about all of these obligations that are beginning to stress you out. They might agree that you need to reduce your course load or put you into less stressful classes once they know how you feel. By requesting one of those options, you are not showing weakness or saying that you're not smart enough; you are simply taking initiative while regaining control, and expressing what you feel capable of at this point in time.
— Kim
Ask Dr. M. for Advice on Your Problem
Top of Page
— February 20, 2017 —
My mom just remarried and she is moving us to a new town. I have heard that the people in this town aren't very nice and are really rich. This is the opposite of me. My family is not rich at all and I am very worried that the kids in my school are going to think less of me because I don't dress in very expensive clothes. Also I am going to miss all of my friends. How am I still going to be able to be their friends when I don't live there anymore. I have lived in the same place since I was born and I don't want to lose my friends. There is also a guy that I really like and I don't know what to do about that. I don't want to lose him when I move, but I have heard long distance relationships don't work. I really like him. Lastly, I don't know how I am going to make friends. I am very quiet and shy and I am not sure if I will be able to make friends easily. I have never really had to make friends. I have been going to the same school and camp since I can remember and it's easier to make friends when you are younger. I am very anxious about this move because it is going to happen in the middle of the year. Please help me.
— Moving Troubles, 13
Dear Moving Troubles,
Moving is always a challenge, but at your age and in the middle of the school year, it's even harder. So I'm not surprised that you're feeling anxious. Here are a few ideas that may help ease your transition to a new neighborhood and a new school. Although you have heard that the people in the new town are not nice and are all rich, that is probably not the case. What you need to do is search for those people who are nice—regardless of how much money their families have. If you've been a member of a club or sports team at your old town, sign up for the same activity as soon as you move. Have your mom arrange a meeting with your new teacher before you start attending your new school. Go prepared to talk about your hopes and concerns. Instead of thinking about leaving your friends behind forever when you move, talk to them about how you're going to stay in touch. Think about FaceTime, Skype, and Google Hangouts, for example. Finally, be patient as you try to develop new friendships. Even though you are shy, you are evidently good at making close relationships. That means you should be able to do the same in your new town—just don't expect it to happen in a week or two.

Ask Dr. M. for Advice on Your Problem
Top of Page
— February 4, 2017 —
Lately my mom has been comparing my sisters and me to her friend's daughters. My mom's friend's daughters are really smart, athletic, play musical instruments, etc. On the other hand, I'm not smart, not really athletic, bad with music, etc., though I always try hard to get good grades (I have straight A in every class). I'm not American so its not really easy for me to keep up with other people. My mom always tell me her friend's daughters do chores and help their mother. But I do dishes every single night, do laundry, take out trash, clean my own room, and clean the restroom. Still, she says I'm not good enough compared to them. "Why can't you just be like them?" is what my mom always tell my sisters and me. I'm not American so its not really easy for me to keep up with other people. But looking at her, my mom is not perfect either. My lunch always looks bad compared to my friends, my friends get rides whenever they miss the bus or when they need to be picked up for after school activities but I have to walk home. My friends get homework help from their parents but I never get help, and my friends always get gifts when it is their Bday and even on Christmas. I never get gifts even though I used to until I became 7 years old. What hurts me the most is that I have a hard time in school but my mom doesn't understand that. But I still try to get good grades or Student of the Month every year. However, my mom still thinks I'm not good enough compared to her friend's daughters. I try to act tough when she compares me to them but inside my head, it hurts me so much that it makes me cry for hours. I'm really tired of trying really hard for nothing and I just want to disappear right now. I want to leave the house and I just want to tell her that if you want a child like one of your friend's daughter, just make one. I'm already tired. I honestly just need help how to ignore what she is saying. Thank you for reading.
— Sad, 14
Dear Sad,
Your mom seems to be emotionally abusive. It's not your fault, so don't take it so personall—she would criticize you even if you were perfect. Perhaps she's going through a difficult time, is not happy with her life, or is feeling insecure herself, all of which can play a role in how she's treating you. However, you have a lot going for you. You have stellar grades, are doing your best at school, and are acting responsibly at home. These are positive attributes you can count on and think of when you feel sad! At this point I would suggest that you seek out a trusted teacher or another adult, or perhaps a counselor at school, who can provide you with the emotional support you need and deserve. Talk with them about how to approach your mother regarding how she makes you feel, and stay hopeful that the situation will get better.

Ask Dr. M. for Advice on Your Problem
Top of Page
— January 22, 2017 —
I'm feeling very confused. I am struggling with the possibility of being transgender. I've always hated feminine clothes and items, and I have always been better friends with boys. I'm still attracted to boys, but I feel like subconsciously I want to be a boy, as I have fantasized/thought about being a boy several times. I even asked my friends who are also female if they also felt that way—and sometimes wanted to be a boy—but they all just looked at me strange. I don't want to change my physical appearance (my genitals) to be that of a boy's, but I feel like I would be comfortable and confident in myself if I were allowed a chest binder and to be called by he/him pronouns. I am very confused. Can you please help? I know my mom would not want to talk about this with me. She'd probably be ashamed of me.
— Conflicted, 13
Dear Conflicted,
First, I want to sincerely thank you for reaching out, as I cannot emphasize enough the importance of taking away the stigma of this topic and having open conversations about gender Identity. It's a complex, difficult subject to discuss for many people who are struggling with it. Confusion in this area often stems from looking at gender as consisting of two categories based on biological sex. So, when a person's gender identity does not align with their physiology, it may cause distress, self-doubt, and in many cases, depression. Contrary to popular belief, there are many different types of gender identities, such as transgender, bi-gender, non-gendered, third gender, and gender fluid, to name a few. If you have not already done so, I urge you to do some more research on the terminology that you will face on your path of self-discovery. Gender is not clear-cut and not only determined by how you self-identify, but also how you choose to present your gender identity to others. This is a gradual process that I do not recommend you go through alone, as it requires tons of support, including from family and possibly a therapist who specializes in gender identity. There are also plenty of resources online that can give you further information about questions you may have, such as Ted Talks, support hotlines, and online support groups. You might want to look at www.genderspectrum.org/resources/teens-2/#uno. A guidance counselor or school psychologist may better help you navigate how to go about finding these resources and telling your mom if you feel uncomfortable doing so by yourself. While I cannot predict how your mother will react, accept that she will likely be going through an adjustment process as well and needs support, too. This may not necessarily mean she is ashamed of you but may simply mean she needs time to understand you. I hope you feel proud of yourself for recognizing your needs and taking this initiative to meet them.
— Kim
Ask Dr. M. for Advice on Your Problem
Top of Page
— January 8, 2017 —
Since I began high school, I noticed that this one girl said that she likes me. But I cannot get myself to tell her how I feel, let alone talk to her. How can I improve my social skills with girls to be able to talk to her? Her best friend is always telling me that she has a huge crush on me as well. Thanks.
— Joel, 17
Dear Joel,
Talking to someone you like romantically is rarely an easy task, especially in high school. I have had many clients. (teens and adults) come into my office with similar concerns about how to communicate effectively. Social skills often do not come naturally and usually take a lot of practice. Try the following: practice without being hard on yourself if the outcome does not work out in your favor. It's not the end of the world if one conversation does not go well. In therapy, I often role-play with my clients to see where they get stuck in the conversation, and this is something you can do with your friends or a family member. Sometimes they stop breathing deeply, which can lead to tension or in more intense cases, hyperventilation—preventing themselves from thinking clearly. Sometimes their attention shifts from the person in front of them to internal negative thoughts like, "I'm looking so dumb right now. Did I say the right thing? What if she doesn't like me?" Avoid this negative thinking, especially if the thoughts may not be true. In your case, you already know this girl likes you, which means she thinks there are positive qualities about you that are attractive. Simply being yourself has gotten you far, and regularly recognizing those positive characteristics that outweigh the negative thoughts is important.
Nobody said you had to profess your love to this girl right away. Talk to her as if you were talking to one of your friends, and maybe even begin with casually texting. Your emotion towards her (and any girl) is the only thing preventing you from seeing her as just another human being. After spending time together, the chemistry may or may not be what you expected on either end. The right person will accept and forgive your quirks and mistakes.
You might also consider group counseling, which is a great way to practice socializing with both females and males who have similar problems while getting perspectives from peers in a safe atmosphere. In sum, don't forget: Breathe, be yourself, practice, and don't be afraid to use the support around you.
— Kim
Ask Dr. M. for Advice on Your Problem
Top of Page
— December 24, 2016 —
My boyfriend and I have been going for ten llloooooooooonnng months. Recently I've found myself getting irritated with him all the time. He's very clingy, and even though I've talked to him about it, he won't give me space. He liked me for a lot longer than I have liked him and every time he thinks I'm even slightly annoyed with him he feels the need to call me and talk about our feelings. I have been considering breaking up with him for awhile now because I'm just not happy with him any more, but I don't want to regret it later or hurt him because he is very sensitive.
— Carrie, 16
Dear Carrie,
Before you decide to break up with your boyfriend, think about how you feel. Staying with him because you don't want to hurt him or because he's very sensitive are not good reasons for continuing a relationship. After 10 months, a relationship is bound to change, but if the two of you want different things and are basically incompatible, breaking up now may be better for you (and for him) than just going through the motions of a relationship for an even longer time. Before you make a decision, find a time to talk together about what you both want from a relationship and whether you can agree on a cooperative plan that really works. It sounds as if your boyfriend wants to stay with you no matter what, so you are the one who has to choose the path—staying or leaving. There will be some pain either way—no matter what the result.

Ask Dr. M. for Advice on Your Problem
Top of Page
— December 10, 2016 —
A while ago my family and I moved back from living in Australia. We had moved there for my dad's job and we stayed for about 7 years so I made some really good friends growing up there. I had moved away from my original home—the UK—when I was about 5, so I did have other friends from my school. However, since we returned to the UK I have felt like I can't connect with all my friends now even though I met most of them when I was quite young. There just feels like a big gap in our relationships as I haven't grown up alongside them like they have with each other. I just wish with everything that I could go back to Australia because I feel like everybody there understands me more. But I can't. I won't be going back till I finish school because we don't have the money. Also, my friends have all gone off to different high schools and it has been about more than a year since I got back and only now do I realise how much I miss them. But they don't miss me anywhere near as much as I miss them because to them, I'm only one person who has left. To me, I left them all. And the hardest thing is, knowing that I'm never going to see them again. I think I feel homesick even though I am at home now. How do I get through this? I know that this isn't the most important question that you've read, and you probably won't answer or even read this for that matter, but it was worth a shot. Thank you for reading anyway
— Homesick, 13
Dear Homesick,
Every question is important, and I am glad to get a chance to offer advice to you. Your analysis of your situation is very insightful and mature. You moved back to the UK at a difficult time—the beginning of your adolescence when friends are particularly important. Although you had made friends in the UK, you left there at such a young age that the ones who have really gotten to know you are the people you had to leave behind in Australia. Try to be patient as you rebuild some of your friendships with your "old" acquaintances, but also be open to developing new relationships with peers you will now have an opportunity to get to know. Try school clubs or community organizations to find people who share your interests. Since your friends from Australia continue to be important to you, use technology, such as FaceTime, Skype, and email to keep in touch. While a visit to Australia is not possible right now, you may well find a way to see them again at some point in the future or they may be able to visit you in the UK.

Ask Dr. M. for Advice on Your Problem
Top of Page
— November 26, 2016 —
I have multiple questions for you that all really connect to one thing. So, I've always been a shy, quiet girl, and I'm pretty sure that I'll always be that way. I've started noticing that my shyness has gotten worse than it used to be. For example, some changes I have noticed include: being afraid to go to church (my church has a LOT of people), being afraid of crowds, being afraid of socializing. I always feel like I'm being watched or stared at, even when I'm in a room by myself. I'm afraid of speaking in class, I hesitate to talk to others, being called on in class, working in groups in school (I never know what to say or do, and then afterwards I feel bad for not helping), saying others' names (it's always been that way). I never seem to know what to say to anyone, even a friend, in other words I can't start a conversation at ALL. I get nervous when I see someone I know in public, and then I'll even feel embarrassed. I always feel myself blush, talking on the phone, and I especially hate answering people who ask me "how my day at school was", etc. I never really tell my parents how my day was. For example, I'll leave things out about my day. I have a hard time wording things especially, and I will always say "um" or "uh" between sentences. I always dwell on the future also. For example, I might post something on social media and once it's already posted, I feel embarrassed about what people might think about it and remove it soon afterwards. Now, to me, this whole situation seems like a problem that I would like to get fixed soon, but what I'm nervous about is telling my parents. I could be telling them about a problem I have, or how I might feel about something, or going out in public. This one time, I was afraid to go to church because the amount of people there terrifies me, and I always feel like people are staring. So, I told my mom, and she just told me to "Stop being silly" in a serious tone. Or, if I start crying, my mom seems very frustrated with me for doing so. This is why I'm so afraid of telling people about the things I have on my mind, because they might think that it's silly too. But I would like to be able to tell them about these issues, and I want them to understand me, and I want to get help for it. I just don't know what to tell them or, for that matter, if these problems are serious things that need to be taken care of. I just don't know where to start or what to even do. If you can help me, that would be wonderful. Thank you so much. :)
— Mysterious Anonymous Being, 14
Dear Mysterious Anonymous Being,
I agree with your own feeling about the situation—that this is a problem you should try to get help for. If it were just being afraid of talking in class or having trouble starting a conversation, I would say it's something you could try to fix on your own, and I'd have plenty of advice from my own experience formerly being very shy. But add to that being afraid of crowds and not feeling comfortable even talking to your friends and family, and it sounds more like social anxiety disorder, which is often treated very successfully with cognitive behavioral therapy.
I think the reason your parents don't take your concerns seriously is because they only see one thing at a time, and they don't see the full scope of what's going on. They might also think that if they tell your that your fear is unfounded, that will be enough to make it go away. One thing you could do to help your parents understand what's going on and why you need to seek help is to show them your question and our response here, so they can see how much this problem is affecting your life and get confirmation from someone else that it's something you need outside help to fix. If you feel too nervous to start that conversation with your parents, try writing everything down in a letter. That way you can spend as much time as you want figuring out exactly what you want to say and how you want to say it. And you can either read the letter to your parents or give them the letter and do something else to help with your nerves while they read it.
If your parents still don't take your concerns seriously, talk to a guidance counselor, psychologist, or social worker at school. Many people feel social anxiety, and you should know that there are professionals who can help you so you will feel more comfortable, and even begin to enjoy, social situations.

Ask Dr. M. for Advice on Your Problem
Top of Page
— November 13, 2016 —
This is actually a more serious question that I can't find an answer to with the power of Google. Now I'm not 100%, but am pretty sure I have Moderate Depression. Any normal person would go and get it diagnosed, but I am too scared to tell my parents. They just don't understand me. Every single thing that I have wanted in the past has been turned down by them. I've spent most of my summer crying because nothing has been going my way. They don't understand my dreams (become a YouTube star) or anything like that, and I know that when I tell them I have depression that they will not understand and think I'm lying. Now I've never really lied to them either, so it makes no sense for them not to trust me. I guess what I'm trying to ask here is how can I break it to them that I have depression? Also, how do I get them to trust me?
— Misunderstood Misfit, 17
Hello Misunderstood Misfit,
Most of our parents do not understand us at 17 because times have changed profoundly since they were teens. For example, social media and YouTube didn't exist in their day; therefore, they probably wouldn't be supportive of the idea of becoming a YouTube star. However, since times have indeed changed, we know that this is entirely possible. It seems as though you want to be able to express yourself to your parents; therefore, I suggest you have a conversation with them and explain exactly how you feel as you did in your message to AskDrM.org. Your true feelings can never be scripted. It's important to give them a chance to rectify the situation even though you feel as though you can predict the outcome. You may be pleasantly surprised with their response since your parents may not have a clue as to how you are feeling. If you don't feel this is working, then you can always reach out to another adult you respect and trust for additional support, perhaps a teacher, doctor, or school counselor. You may well be able to become a successful YouTube star if you work hard, as nothing worth having is likely to come easy.
— Velben
Ask Dr. M. for Advice on Your Problem
Top of Page
— October 29, 2016 —
I've been thinking recently about what I want to do with my life because I'm in my senior year of high school, and I need to start thinking about it so I can apply to colleges. Whenever I think, "Hey I might actually really enjoy doing this thing for the rest of my life," there is always somebody or something that has to put that idea down. This causes confusion and a million questions to run through my head on whether or not I actually want to do this or if it is worth going through so many years of schooling just to get to the point where I can actually do it. I basically have two options as of now that I've been leaning towards, but as usual there are people in my life that are causing me to second guess myself and my choices. As of last year, I've been thinking that maybe I would enjoy working as a vet. I mean they make pretty good money and they get to work with animals all day which is my cup of tea. However, whenever I told someone about this the first thing they said was not "Oh wow I think you would be really good at that." No it's "You know they have to perform surgery right?" I understand why they ask me, but I'm not kidding when I say literally everybody I told asked me this. So this caused some confusion not to mention that when I went to the doctor's the other day for a physical, this doctor went on and on about how I shouldn't work with animals because they make no money and so on, and so on, so that added to the "what the heck am I going to do?" Recently I've been thinking that maybe I should go to school for nursing. There are so many different options for jobs as a nurse and I think that I would really enjoy being a labor & delivery nurse or a midwife. Maybe I will even try a career as a OB/GYN (but that's A LOT of schooling). So basically what I'm asking is what should I do. If you have any advice on different jobs that may be available that I may not even know exist that would be greatly appreciated. Any advice on picking colleges and how to start looking would also help me a lot. Thank you.
— Alli, 17
Dear Alli,
Before we get into the details of medicine and college, I want you to remind yourself of this: other people will come into your life and tell you what to do—but you alone have to deal with the consequences.
That said, I think what you must do is do research, and tons of it. Talk to doctors—vets, OB/GYNs and others—about their experiences. Ask your school college advisors for information on colleges, and use websites. Remember also that one person's opinions on their job or a specific college doesn't really mean much; you need to talk to as many people as you can.
Moreover, you need to set aside time to think about what you want. You like animals, so naturally being a veterinarian makes sense. But, are you "good" at biology? Medicine? If not, think of other careers you can have. This applies to nursing, too.
Also note that your undergraduate major does not define your entire future. I changed my major in college, and honestly almost everyone does. This leads me to my final point: in terms of a specific college you would like to apply to, first consider what fits you best. Is a small or large school right for you? Urban or rural? You get the point. But, since you don't necessarily know what you want to do, it might make sense to prioritize schools that have well-rounded options so you'll be able to consider a lot of different possibilities.

Ask Dr. M. for Advice on Your Problem
Top of Page
— October 14, 2016 —
Between the ages of 14 to 17, I missed the good part of three years of attending school due to illness (chronic fatigue). I attended a health school for two years, but missed out one entire year of education when I was too ill. I missed out on a lot of social interactions because it became too hard to keep in touch with friends and I missed out on a lot of the "growing up" phase. Well, I got entirely better towards the end of last year and have returned to a public school this year where the difference between my maturity and my friends has been highlighted. I was already falling behind my friends without all of this because I am one of the youngest in my year group and most of my friends have turned 18. The small group of friends I have now are all attending parties, occasionally, drinking alcohol regularly, know what it's like to be drunk and some are even starting to try drugs. I haven't ever attended a teenage party, I don't even want to drink alcohol, never been drunk and I haven't done drugs (and won't). They're all off to university next year too or traveling while I am stuck for another year at school (I missed so much school that I need to do another half year to qualify for university courses). I just feel so different from everyone else my age and I'm worried that I'm letting myself down and embarrassing myself by not doing these things that are so common. So what do I do? I know this question is long, but thank you if you read it and I could really do with some advice.
— Not Grown up Enough, 17
Dear Not Grown up Enough,
I'm happy to read that you are better now, but you cannot blame yourself for anything in this situation. You being sick is something that was completely beyond your control so do not beat yourself up about it. There will always be some people ahead of you and others behind you. Just because you are a little behind doesn't mean you can't make the most of school now that you're feeling well. There are people who will party and there are people who prefer to stay home. Now you have a chance to do both. Your friends may be going to college but that doesn't mean they're not your friends anymore, and you can still see them. Don't let going to college a little later than a couple of friends bring you down. And now that you're back in school, you will also have an opportunity to make new friends. You will be in a university before you know it, and you'll be figuring out what you want to do as the next steps in your life. We never stop growing up, so you have lots of time to experience everything you want.

Ask Dr. M. for Advice on Your Problem
Top of Page
— October 5, 2016 —
Hi, I am very concerned about my weight. I am thirteen, am 5 foot 3 inches, and I weigh 90.4 pounds. I am not anorexic or bulimic. All of my family is very thin and slender. My parents say I am thin because of my genetics. I am a pretty active person, and I work out occasionally, not for my weight, but because I love the feeling of it. My parents encourage me to do so. My friends tell me to stop working out, because when you work out, you lose weight. I don't think it's true, but if it is, I'll stop. I am criticized by my friends, and am constantly being told I am too skinny. I am trying to gain weight, but no matter what I eat I never gain anything. Some days I just don't feel beautiful. I know people are being fat shamed, but there are people including me who are being skinny shamed. I hate that I am skinny, and that I don't fit in. Help me please!
— Cassandra, 13
Dear Cassandra,
As long as you are eating in a healthy way, try not to focus on what your friends are telling you. Working out on a regular basis is an important way to stay fit and feel good, both physically and emotionally. Just to be sure that your weight and nutritional status are within the normal range, check with your family physician. Come up with a response to the people who are shaming you about your appearance—maybe telling them that you know how to take care of yourself and don't need their advice. They may be envious that it's so easy for you to stay slim, but that's not an excuse for them to criticize you.

Ask Dr. M. for Advice on Your Problem
Top of Page
— September 18, 2016 —
I am a girl of 13 and having some trouble with my friends at school. I started high school (I live in Australia) at the start of the year, and made some great bonds with a large group of girls. It was all great until a month or so ago. Somehow, I became best friends with some of the boys in my class, too. I obviously tried to spend an equal amount of time with each group. When I hung out with the girls, the boys understood, but when I hung out with the boys, I could tell the girls weren't too happy. They're very nice people, so they didn't say anything, but they sort of exchanged looks, and when I sat with my male friends, they would always try and interfere. The biggest problem is that I like one of the boys in the group (let's call him Ben), and one of my female friends said that she thinks I'm hanging out with the boys just because Ben is there. What do I do to make everyone happy? Do I have to choose one group over the other? Please help me.
— Clueless, 13
Dear Clueless,
You shouldn't have to choose one group over another. And it's okay if part of the reason you are hanging out with the group of boys is because you like Ben. Instead of trying to make everyone happy all the time, which is probably impossible, think about what makes you feel good. If you like spending time with that group of girls, then continue to do so, and make sure you let them know how much you enjoy hanging out with them. But you can certainly also spend time with the group of boys you've gotten friendly with. One strategy you might try is to set up an activity—perhaps something music or sports-related—that both groups of friends could appreciate. That would allow the two groups to get to know each other and maybe even encourage the development of new friendships.

Ask Dr. M. for Advice on Your Problem
Top of Page
— September 5, 2016 —
Hello! So I just started high school sports this summer as a freshman and at the beginning, I was loving it! I love my sport (field hockey) and the year before I had loved my team and playing the game! But right now, a few weeks in, I am no longer looking forward to every practice and am struggling with not only my skills, but my ability to connect with other players on the team. The other freshmen who I was friends with last year seem to be improving without me. I am considering quitting, but I feel obligated to continue playing because it was such a rewarding experience last year. But I don't know what to do. Advice?
— El, 14
Dear El,
Because your experience last year was so rewarding, give field hockey and your team a bit more time before you give up on it. If you're falling behind in strengthening your skills, ask your coach for tips and extra practice time, and maybe even find someone on the team willing to work out with you.You could also try to get to know the other players off the field—maybe by inviting one or a few of them to hang out doing something fun when practice is not scheduled.

Ask Dr. M. for Advice on Your Problem
Top of Page
— August 20, 2016 —
Hi I've been dating this guy for 2 years and we are going strong. However as he is two years older than me and is starting college, I don't know whether we can keep our relationship. A year ago we broke up because he was cheating on me and I'm worried that he will cheat on me again when I'm not with him at college. I tried talking to him about it but he hit me and gave me a black eye. Afterwards he said he was sorry and I should just forget about it. Please help me. What should I do?
— Emma. 16
Dear Emma,
I'll say this briefly and directly: break up with him. Your boyfriend is not mature at all; you tried—as an adult—to talk to him about your legitimate concerns, and in response he hits you? Hitting you so hard that you have a black eye is wrong, illegal, and abusive. I can't say if he'd cheat on you again, but I'm certain that he does not respect you as a human, let alone as his girlfriend.

Ask Dr. M. for Advice on Your Problem
Top of Page
— August 6, 2016 —
My boyfriend just told me he was sexually abused when he was younger. He is 16 and I am 15. I don't know how to respond to that or how to ask him my questions. Please help me know what to do and how to help him. He's only told me and one other person who is no longer in his life. I am at a loss for how to proceed.
— CJ, 15
Dear CJ,
You must be a very trustworthy and caring person for your boyfriend to share such a sensitive and disturbing part of his past with you. Make sure he knows that you appreciate his honesty, and give him an opportunity to tell you as much as he'd like about what happened. Sharing his story lets you know how important you are to him and allows you to understand him better. However you respond, emphasize that what happened to him was definitely not his fault, and that you truly care about him. He may be trying to figure out whether he should be reporting the abuse to his parents or others so that action can be taken against his abuser. Continue to support your boyfriend as he grapples with making decisions about next steps for him.

Ask Dr. M. for Advice on Your Problem
Top of Page
— July 22, 2016 —
Hello, how are you? Good? Me too, but I have a question to ask you. I am a girl, going into 8 grade, and I have Aspergers Syndrome. I want to go to another school that is 20 - 30 minutes away from where I live where they can teach "my" kind. I can't take it anymore, every day I am teased and bullied! I hate it, people won't let me be me, my friends are being mean too. I have a tough and shrewd personality, well, I'm trying to be tougher so I don't cry. I've tried many advice sites (no answer) or kids' advice places. All I want is to be accepted. Please help me. I don't know what to do! I'm stuck. I hope this makes sense. I appreciate your help and time for reading this.
— Midna, 13
Dear Midna,
Your letter made perfect sense to me. If you have an opportunity for a fresh start in a new school with other students who share some of your challenges, that would be great. But if you don't get that chance, consider other ways to use your "tough and shrewd" personality to react to the bullying in a manner that allows others to understand who you are and to get them to stop teasing you. While it's important to be authentic, you also could work on figuring out what you can do to get along better with your friends. If one of them is more understanding than the others, ask her to give you feedback about your behavior and whether you can communicate in a more effective way. Think about sharing what it means to have Aspergers. You might also work on making new friends, people who would be more understanding and accepting.

Ask Dr. M. for Advice on Your Problem
Top of Page
— July 8, 2016 —
Okay, well I don't really know how to start this but probably since around 5 years ago I have had depression and anxiety attacks. This all started because my sister tried to kill herself. I was only 9 when it happened and I have been scared to lose her every since. My whole family battles with depression as well. Sometimes I wouldn't see my mom for weeks because she would be sleeping and she just wouldn't come out of her room. My dad had a breakdown about this and that resulted in him drinking. He has been drinking his whole life pretty much. Anyway I'm having a really hard time getting along with my parents. I always feel like crying or I'm angry and then I'm sad. My anxiety attacks are getting worse and I feel like it's making me less popular at school because I'm scared to talk to people. I've never told my parents about being depressed, actually I have told nobody in my family. I have a really hard time telling people how I feel and it sucks because I'm sick and tired of feeling like this. I just really need advice on how to get along with my parents and how I can stop feeling like this. I've literally tried so many things for my depression and it works for a while and then it comes back and it worse then before.
— Hannah, 14
Dear Hannah,
It sounds like you are really suffering and feel plenty burdened by what is going on at home. The best advice I or anyone else can give to you, is to go get yourself some counseling. You need someone to help you bear some of the pain you are feeling and to help think with you about how to "get along" with your parents as well as how to manage your anxiety and depression.
Find a social service agency in your community or a trusted teacher or school administrator who can help you identify counselors who are experienced in working with adolescents with issues similar to yours. Depression combined with anxiety can be pretty debilitating, but while it might seem overwhelming at first to see a professional therapist, taking that step can be extremely helpful.
— Mrs. B.
Ask Dr. M. for Advice on Your Problem
Top of Page