Books by Dr. M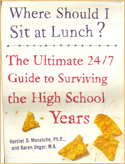 Where Should I Sit at Lunch?
The Ultimate 24/7 Guide to Surviving the High School Years
Readers Comments
— November 19, 2017 —
How often do you answer questions, and when you do, how do you choose them? I am curious because I am interested in your website and I read it a lot. I have asked a question once or twice and you did respond, so thank you.
— Queenie, 11
Dear Queenie,
Thank you for being a regular reader of our website. I am constantly reading the questions that are submitted, and every two weeks we post six new questions and answers, Choosing the ones to answer is difficult since we receive thousands of submissions. We try to answer questions on topics that express common concerns as well as those that present a unique perspective. Sometimes, we pick a question because it's about a serious issue, and we know that many people need advice on that subject. And at times, we answer questions that may not seem all that serious, but to the person asking it is an important issue. We also are more likely to pick a question when it's written in a clear way and provides us with enough information to give a useful answer.

Ask Dr. M. for Advice on Your Problem
Top of Page
— November 19, 2017 —
x
x

Ask Dr. M. for Advice on Your Problem
Top of Page
— November 4, 2017 —
Hi. I have been reading the Dr M column for a while now and I really, really love the advice you're giving. Can I recommend you to other people? Thanks!
— Mariana, 12
Dear Mariana,
Thank you so much for being a fan of our site, and we hope you will recommend AskDrM.org to your friends and family members. We want to help as many people as possible.

Ask Dr. M. for Advice on Your Problem
Top of Page
— October 22, 2017 —
Dear Dr. M and Amy,

Thank you so much for responding to my question—the most recent one—the one that you posted on October 4th. I just want to say thank you for helping so many people. I was one of thousands, and I feel so lucky. I think I just needed a bit of reassurance that I wasn't doing anything wrong. I guess it helps to know there are people out there who care.
— Ashton, 12
Dear Ashton,
Amy and I both really appreciate your letting us know how you're doing. Your letter gave us an opportunity to respond not just to you but to many other people who are dealing with similar issues. So thank you for writing and using our advice. That means a great deal to all of the advisers at AskDrM.org.

Ask Dr. M. for Advice on Your Problem
Top of Page
— September 24, 2017 —
How come you only post one question for each category every two weeks? If this is your job, how come you are aren't posting more? And you have a LOT of other people helping you, I don't get the lack of posting.
— Confused, 13
Dear Confused,
I understand your frustration, but answering questions on AskDrM.org is not a job for me or any of the other advisers on this site. We do not get paid. Those of us who contribute to the column do so because we care about our readers and want to help them. But each of us actually has other work and responsibilities. For instance, the web designer/manager is a teacher and artist, one of the advisers is a busy lawyer, and another is a therapist with a full-time private practice. One of our advisers just started a physical fitness business, and another works as a project manager while trying to finishing her PhD dissertation. And all of them also have family responsibilities. I continue to read the thousands of letters that are submitted even though most will not be posted on the site or answered. It also takes time to choose the questions that will be sent to the other advisers and also to review and edit all of the responses. I hope you now have a better understanding of our work and our strong commitment to our readers, including you.

Ask Dr. M. for Advice on Your Problem
Top of Page
— September 10, 2017 —
I want to thank you for all the possible lives you have saved answering these questions. I love you guys, no matter if you answer my questions or not!
— Malaya, 14
Dear Malaya,
My co-advisers and I do our best to answer as many questions as we can, and we really appreciate your kind note acknowledging our efforts.

Ask Dr. M. for Advice on Your Problem
Top of Page
— July 18, 2017 —
Hello. I sent out for advice a couple of weeks ago. Sorry for being so annoying and all. It's just that the problem I sent wasn't answered and I still need to know what to do. I always check here after school to see if you have replied but you haven't yet and I was wondering when you could reply to me?
— Odog, 14
Dear Odog,
Since we receive thousands of questions, most of them, unfortunately, don't get answered. If you still haven't figured out a solution to your problem, submit your question again, and one of us might answer it. In the meantime, look at other advice we've given to see if a similar situation has been described. You might be able to use or adapt the suggestions we offered for that problem.

Ask Dr. M. for Advice on Your Problem
Top of Page
— June 30, 2017 —
Hi there! I was just wondering, how many questions do you get that you do not reply to? Because I have asked many questions over the course of several months and none have been answered. Also, is it possible to answer questions either more at a time or more often? Because you answer one question from each category roughly per month, and I would appreciate it if you guys could post more. I understand you may not have time, but please consider it if you do. Thanks so much, and have a wonderful day! :)
— Sierra, 14
Dear Sierra,
In the past couple of years, we have been answering one question from each category every two weeks (which is double what we used to do). I understand how frustrating it is to submit questions frequently and then not have them answered. Since we get thousands of questions, we are only able to post answers to a very small percentage—probably less than one percent. But you should know that I actually read every single submission. I'm happy that I was able to respond to this letter from you and appreciate your support of AskDrM.org.

Ask Dr. M. for Advice on Your Problem
Top of Page
— June 3, 2017 —
Hi, my name is Isabel and I really like how you answer such a variety of questions. A lot of your answers have helped me with my problems and I really love your website! Thank you!
— Isabel, 11
Dear Isabel,
Thanks so much for being a fan of our website. I'm really happy that our advice has been helpful to you and hope you'll continue to follow AskDrM.org.

Ask Dr. M. for Advice on Your Problem
Top of Page
— May 21, 2017 —
I need your help. I have a family problem right now. Several weeks ago I tried my best to solve it by myself. But still it didn't work at all. My teacher recommended me to go to this website and ask you about my problem. So what should I do?
— Alex,16
Dear Alex,
I'm glad your teacher suggested that you go to AskDrM.org for help with your family problem, but we'll need to know more before we can offer you advice. Please write back and describe in detail the problem you're having, and we'll suggest some ways to resolve it.

Ask Dr. M. for Advice on Your Problem
Top of Page
— May 5, 2017 —
Hi,This is Catalina. I just wanted to say thank you so much for your advice and I will use it ASAP!!! Thanks!
— Catalina, 11
Hi Catalina,
Thanks for letting us know that you're going to use our advice. We always appreciate getting feedback from our readers.

Ask Dr. M. for Advice on Your Problem
Top of Page
— April 2, 2017 —
You mentioned sometimes you decide to answer a question that may broadly help other people as well as addressing a situation that is similar to problems that may have come up in other questions you received that you don't have time to answer. Like if similar problems come up, you notice a pattern and then find a question that covers the ground of several questions from others that fit in the same kind of area. What are the most common concerns that kids, teens and parents face that they need help with? Is there a particular topic that is of great concern or do they vary very broadly and very randomly?
— Cas, 13
Dear Cas,
The questions cover a very broad range, but a large number are related to conflict—in a family (such as sibling rivalry or parent-child disagreements) or in romantic-type relationships (perhaps there has been a betrayal or a lack of attention). From students of all ages, I receive a lot of complaints about unfair or overly demanding teachers or bullying from classmates. Many questions are related to feelings of depression or anxiety, sometimes related to a particular incident but often they have been long-term challenges. Also, questions related to shyness are very common.
Thanks for being a devoted reader of AskDrM.org. I hope the column has been helpful to you.

Ask Dr. M. for Advice on Your Problem
Top of Page
— January 8, 2017 —
I'm a guide in a Guatemalan school that is trying to do things differently. My students are starting a 5-week long project in January for their Writer's Workshop. They will be asked to do an advice column. I would like to know if we could set up an online interview with you so they can get information about their questions regarding the skill of writing advice columns. Your response is much appreciated.
— Best regards,
MAR
Dear MAR,
Please send your interview questions to me at hmosatche@mosatchegroup.com, and I'll be happy to respond. I will say that writing an advice column requires training, expertise, and compassion.

Ask Dr. M. for Advice on Your Problem
Top of Page
— December 24, 2016 —
Is all of our information or letters confidential or can anyone access them that isn't part of the team?
— Chloe, 10
Dear Chloe,
I am the only one who receives and reads all the letters, and I provide members of the advising team with individual letters to answer. Anyone who is not an adviser has no access to any of the submissions. The public only sees the questions and answers that are posted on AskDrM.org every other week.

Ask Dr. M. for Advice on Your Problem
Top of Page
— December 10, 2016 —
Hi. Thanks so much for answering. I hope one day I can meet you! Please show this to your colleagues or show this to Dr. M. I love your column! Because you posted this, I have been getting along with Kaitlynne, the friend I talked about!
— Sophia, 10
Dear Sophia,
Thanks so much for letting us know that our advice was helpful. We love hearing from our readers who have used our advice.

Ask Dr. M. for Advice on Your Problem
Top of Page
— November 26, 2016 —
A couple of months ago, we posted the following question and answer on the Kids column:

I just moved schools because my dad moved for his work. At my old school people used to say I was a rich brat because my dad and mom are rich. Once at school my housekeeper and nanny picked me and my little sister up in a limo and everyone was whispering and saying stuff like: "show off" and "such a brat." And this boy at my old school used to like me but all his friends said I was a dumb blonde and my parents were too young. But that is not true. And my mom is always at her modeling shoots and dad is always working and I don't want to bother them. I am really nervous about my new school because my parents are not taking me on my first day and I am not sure how to make friends. I want people to see me as Brittany. Not a super rich girl who can get what she wants. Also it is my 11th birthday coming up 2 weeks after I start school. My mum says I should have a MEGA party but I just want to have my party alone but she just says: "Use what you've got and we've got a lot." Please help me.
— Brittany, 10
Dear Brittany,
You can't control what your parents do or say, but you can make sure that you don't flaunt your family's money. People will like and respect you if you act in a real way, showing that you care about how others think and feel. If you don't want a big party, let your parents know that you're trying to fit in at your new school, and having a "MEGA" party will do just the opposite. Instead, ask if you can invite just one or two people to hang out with you, doing something low-key, maybe listening to music together. Even if your parents are busy, you still deserve their attention, so don't hesitate to tell them what's bothering you.
— Dr. M.
Brittany, who's now 11, wrote back to us recently, and here's what she said:

Your advice helped so much. I have great friends at my new school and they don't care about my money. For my birthday I had six girls come over for a pool party. After that we went in a pink limo and got our nails done and ate Ice cream. Thank you for your advice. — Brittany, 11
Brittany,
Thank you for letting us know how our advice worked out for you. We are always happy to hear how things are going.

Ask Dr. M. for Advice on Your Problem
Top of Page
— November 13, 2016 —
Why did you create a Comments section? Some people really need advice and the Comments section is making those people helpless in their situation.
— Kayla, 12
Dear Kayla,
We added the Comments section so that those people who wanted to make a general comment about our website or had a question about how our site operates would have an opportunity to do so. But that does not mean that we answer fewer questions now than before. This section is an addition, not a substitution. We continue to answer as many questions as we can and are actually posting more answers than we have done in previous years.

Ask Dr. M. for Advice on Your Problem
Top of Page
— October 29, 2016 —
How on earth do you choose who to answer? I would be there for days!
— Parmise, 11
Dear Parmise,
It does take me a long time to decide which questions I or one of my advisers should answer since I read through each submission, and there are thousands. I try to answer questions on a variety of different topics so that even when someone's particular question is not answered, they might see advice on something similar to their concern.

Ask Dr. M. for Advice on Your Problem
Top of Page
— October 5, 2016 —
Is there a limit to how much I can type in my question? I have a whole thing written, and it's huge!
— Lucy, 21
Dear Lucy,
There is no limit to how long your question can be, but the submission is often clearer when the writer spends some time editing and removing details that are not really needed. And remember that when an issue is hidden within an overly long question, readers may not pay attention to the most critical points.

Ask Dr. M. for Advice on Your Problem
Top of Page
— September 18, 2016 —
Hi! I just want to say I love your website! I noticed someone wrote something similar but I just want to add my voice. Writing to you has made me feel better even though most of my questions weren't answered. I want to say thank you to everyone who is helping with this website. You really have helped people (at least, you helped me.) So, thank you.
— Nalini, 12
Dear Nalini,
All of the advisers on this site really appreciate your note. Thank you very much for taking the time to let us now how helpful we are. That is very encouraging to us.

Ask Dr. M. for Advice on Your Problem
Top of Page
— August 6, 2016 —
Hi, I heard that you answer 12 questions a month, and you call that a lot! It would take maybe an hour or less to answer a question, so 12 a month is insane! You should be answering way more than that!
— Amy, 10
Dear Amy,
I also spend time reading all the questions that are submitted (there are hundreds each month) and selecting those that my co-advisers and I will answer. We would like to answer more than 12 questions a month, but everyone who works on this site, including our web designer, does so as a volunteer. I understand that 12 is way fewer than our readers would like, and we'll keep trying to increase the number of questions we answer.

Hi Amy,
Have you noticed how many answers are written by Dr. M. herself? She always takes up the slack for the rest of the advisers and is really committed to her work with the column!
So here are some things I think you should consider. I have sometimes found myself judging an expert—usually a teacher—by thinking that they should be doing something better, faster, more accurately, etc., only to find that when I finally was in such a position, there were many more complex details than I could have known before. I suggest practicing your own skills in answering questions. Read a question, but not the answer, set a clock and see how long it takes you to respond! If you find you come back and add to your answer after a few days, as I do, consider this too! And practice this, all while keeping up with your schoolwork and responsibilities—it's actually very good practice! But it's okay if you can't always keep up.

Ask Dr. M. for Advice on Your Problem
Top of Page
— July 22, 2016 —
Thank you so much for answering my question, it really helped! I asked my friend to the dance and she said yes! We are not dating, but it really did help out! I will come back to you guys next time I have a problem!
— Date or Wait, 12
Dear Date or Wait,
I really appreciate your letting us know how helpful our advice was. I hope you'll continue to read our column and send in your questions.

Ask Dr. M. for Advice on Your Problem
Top of Page