Books by Dr. M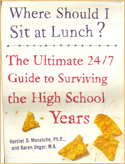 Where Should I Sit at Lunch?
The Ultimate 24/7 Guide to Surviving the High School Years
Readers Comments
— February 25, 2018 —
Hi, to make a long story short, my friend told me she was considering suicide and I ordered a welfare check on her. In the end, she told me about some abuse that had occurred in the recent months and this situation has resulted in her father disowning her. I just wanted to know if I did the right thing. Just to assure you, she did say the words, íI am going to kill myself.í I hope you can respond quickly. Thank you.
— K, 15
Dear K,
You absolutely did the right thing! Whenever someone says theyíre going to kill themselves, you have to take the threat seriously. Whether itís telling a parent, a school nurse, child protective services, or a suicide prevention organization, you need to take action immediately. Think about how you would feel if you didnít do anything and your friend actually committed suicide. You stepped in when you were supposed to.

Ask Dr. M. for Advice on Your Problem
Top of Page
— December 2, 2017 —
I'm writing an advice column for school. Do you have any tips? I love your advice column!
— Suzy Q, 13
Dear Suzy Q,
My most important tip for you as you write your schoolís advice column is to get a trusted and knowledgeable adult, such as a school counselor or social worker, to review your advice before itís posted. You have a duty to the students who write to you to make sure your suggestions will not hurt them emotionally. Sometimes, what seems on the surface like good advice may actually cause someone to feel worse. Taking a little extra time to get someone elseís viewpoint is a great way to be a responsible advice columnist.
Iím so happy that you love our advice column and hope that youíll continue to be inspired by it!

Ask Dr. M. for Advice on Your Problem
Top of Page
— November 19, 2017 —
How often do you answer questions, and when you do, how do you choose them? I am curious because I am interested in your website and I read it a lot. I have asked a question once or twice and you did respond, so thank you.
— Queenie, 11
Dear Queenie,
Thank you for being a regular reader of our website. I am constantly reading the questions that are submitted, and every two weeks we post six new questions and answers, Choosing the ones to answer is difficult since we receive thousands of submissions. We try to answer questions on topics that express common concerns as well as those that present a unique perspective. Sometimes, we pick a question because itís about a serious issue, and we know that many people need advice on that subject. And at times, we answer questions that may not seem all that serious, but to the person asking it is an important issue. We also are more likely to pick a question when itís written in a clear way and provides us with enough information to give a useful answer.

Ask Dr. M. for Advice on Your Problem
Top of Page
— November 4, 2017 —
Hi. I have been reading the Dr M column for a while now and I really, really love the advice you're giving. Can I recommend you to other people? Thanks!
— Mariana, 12
Dear Mariana,
Thank you so much for being a fan of our site, and we hope you will recommend AskDrM.org to your friends and family members. We want to help as many people as possible.

Ask Dr. M. for Advice on Your Problem
Top of Page
— October 22, 2017 —
Dear Dr. M and Amy,

Thank you so much for responding to my question—the most recent one—the one that you posted on October 4th. I just want to say thank you for helping so many people. I was one of thousands, and I feel so lucky. I think I just needed a bit of reassurance that I wasn't doing anything wrong. I guess it helps to know there are people out there who care.
— Ashton, 12
Dear Ashton,
Amy and I both really appreciate your letting us know how youíre doing. Your letter gave us an opportunity to respond not just to you but to many other people who are dealing with similar issues. So thank you for writing and using our advice. That means a great deal to all of the advisers at AskDrM.org.

Ask Dr. M. for Advice on Your Problem
Top of Page
— September 24, 2017 —
How come you only post one question for each category every two weeks? If this is your job, how come you are aren't posting more? And you have a LOT of other people helping you, I don't get the lack of posting.
— Confused, 13
Dear Confused,
I understand your frustration, but answering questions on AskDrM.org is not a job for me or any of the other advisers on this site. We do not get paid. Those of us who contribute to the column do so because we care about our readers and want to help them. But each of us actually has other work and responsibilities. For instance, the web designer/manager is a teacher and artist, one of the advisers is a busy lawyer, and another is a therapist with a full-time private practice. One of our advisers just started a physical fitness business, and another works as a project manager while trying to finishing her PhD dissertation. And all of them also have family responsibilities. I continue to read the thousands of letters that are submitted even though most will not be posted on the site or answered. It also takes time to choose the questions that will be sent to the other advisers and also to review and edit all of the responses. I hope you now have a better understanding of our work and our strong commitment to our readers, including you.

Ask Dr. M. for Advice on Your Problem
Top of Page
— September 10, 2017 —
I want to thank you for all the possible lives you have saved answering these questions. I love you guys, no matter if you answer my questions or not!
— Malaya, 14
Dear Malaya,
My co-advisers and I do our best to answer as many questions as we can, and we really appreciate your kind note acknowledging our efforts.

Ask Dr. M. for Advice on Your Problem
Top of Page