Books by Dr. M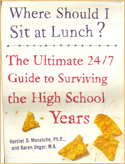 Where Should I Sit at Lunch?
The Ultimate 24/7 Guide to Surviving the High School Years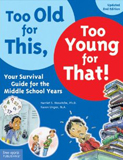 Too Old for This, Too Young for That!
Your Survival Guide for the Middle-School Years
Check out our Comments column!
Parents of Teens & Young Adults
— December 2, 2017 —
For a year and a half, my 17 year old daughter has been dating a young man who is now a freshman in college. She has tried to convince me that she wants to follow him to school even though that school was never on her list of choices. Additionally, she has withdrawn from other friends at school and church. They text constantly and I recently learned that this boy's father turned his back on him in the 10th grade and from his own mother's words, he can't turn his back on my daughter. Both my wife and I are very worried about this relationship and have suggested that they go their separate ways, but to no avail. Recently he came to my house and after 45 minutes of conversation where I asked him to let my daughter enjoy her final year of high school and go off to college without the ball and chain of a young relationship, he basically told me that he didn't care what I said and that he would continue to reach out to my daughter. Just so you know, my conversation was on the heels of a conversation with my wife where he cornered her at school as well. We have basically told this boy to go away as we are trying to protect my daughter from a very toxic relationship with someone who has emotional scars from a very bad situation with his own father. There is always more to the story, but I think this should provide the necessary context for you.
— Pete
Dear Pete,
I understand why you want to keep your daughter away from a young man you believe is not good for her. But when parents push teens in one direction, they are sometimes tempted to pursue the opposite path—just to show their independence. You and your wife should certainly encourage your daughter to apply to colleges that are a better fit for her than the one her boyfriend now attends. Discuss how she and her boyfriend can still be "together" while going to different schools. She may or may not listen to you but at least you're not forcing her to choose between him and you. Maintaining a good relationship with your daughter should be a goal, one that will allow you and your wife to continue to be sources of influence in her life, and that would be best for all of you.

Ask Dr. M. for Advice on Your Problem
Top of Page
— November 19, 2017 —
My daughter is 18 and is graduating from high school this year in June. She has a boyfriend that I do not approve of and I have blocked him from our house because of many things that he has done. He doesn't treat her very well and I think he cares more about fighting with me than he does her. They have decided that they are going to move in together this summer. I told her if they do move in together or if she moves out of our house at all—that she is on her own and I will not financially support her through college as I had originally intended to do. She will not be able to afford college without our funds because she won't have enough financial aid to cover school. Am I right in making this a condition of the support?
— Disappointed Dad
Dear Disappointed Dad,
I understand your disappointment since your daughter is choosing her boyfriend, even though you have clearly expressed your disapproval of him. But if you move ahead with your threat to take away your financial support of her college education, you may be removing her from your life more completely than you actually intend. If you want to continue to have any kind of influence on your daughter, don't make your support contingent on her leaving her boyfriend. If he is as awful as you think, hopefully, she will realize that in time. You should continue to make it clear to her what you have observed about him that disturbs you, but unless you feel that he is a danger to her safety, you may have to quietly put up with him so you can continue to be part of your daughter's life. When your daughter goes to college, she will more opportunities to meet people and learn how to critically examine her choices. That might mean that she will decide that her boyfriend is not right for her.

Ask Dr. M. for Advice on Your Problem
Top of Page
— November 4, 2017 —
My 20 year old daughter wants to visit her friend at FSU. We live in Miami, and that's a 7 hour trip. Her other friend couldn't go so she wants to go by herself. I told her no because I don't feel comfortable. I offered to help with a plane ticket and she said no. I also told her to go by bus and she said no. I also said that I would drop her off, also no. She says that I ruined her plans and won't talk to me. Am I wrong? I'm can't tell her she can't go to FSU, I just don't want her to drive by herself. Help!
— Concerned Parent
Dear Concerned Parent,
I can understand why you're concerned about your daughter doing such a long drive by herself, and it's great that you tried to offer a compromise by suggesting taking a bus or helping with a plane ticket. Perhaps there's a reason your daughter is so set on driving—maybe part of her excitement about the trip is that it's a road trip and an opportunity to feel independent. Try talking to your daughter again about the trip. Find out why she doesn't want to fly or take the bus and see if there's anything that would change her mind. You should also explain what your concerns are about her driving. Maybe she'll be able to find a way to address your concerns and help you feel more comfortable with the trip, such as by agreeing to stop for breaks a couple of times during the trip or contacting you when she gets to a rest stop and when she arrives at her destination. Hopefully by each of you explaining your perspective, you'll be able to find a compromise that allows your daughter to still go on the trip and not be upset with you.

Ask Dr. M. for Advice on Your Problem
Top of Page
— October 22, 2017 —
My 13 year old grandson of whom I have custody, is tormenting me over and over about wanting to go to this two-day venue at the shoreline here in Mountain View, CA. It's a concert with several rappers. It played in Miami and now it's here. It's expensive, yet aside from the money, I'm trying to explain he can not go without a supervising adult. I can not believe that another parent would allow their 13 year old to go with an 18 year old brother. On the lawn at the shoreline is smoking weed, drinking, and the crowd these names may draw in—who I'm not too fond of. My concern is that he is a boy I haven't seen get this emotional and cry for anything. He gets depressed and I don't want this to push him over the edge. I'm trying to seek outside counseling for him. Am I being too strict? He has never given me a reason not to trust him. But this concert is one that is out of the ordinary.
— Michael
Dear Michael,
Given what happened recently at a concert in Las Vegas, I can understand your concern about your 13-year-old going to a large outside concert. If you are able to accompany your grandson to the concert, that might be an opportunity for some bonding between the two of you and can expose you to a new (and possibly fun) experience. But if you're not able to do that, you might have to just tell him the reasons for your refusal to let him go, recognizing that this will not be the only time you'll have to say "no." Being his "parent" means that sometimes you have to make hard decisions, ones that your grandson will not be happy with. Since you say that he tends to get depressed, one way to support him is by finding a therapist who can help him learn coping techniques that he will need as he navigates adolescence.

Ask Dr. M. for Advice on Your Problem
Top of Page
— October 8, 2017 —
Hi, My 18 year old daughter has a new boyfriend. He is 18 also. She met him a year ago at a church camp. At the time she was in trouble and had her phone taken away long term. We allowed her to text her friends using my phone. After a couple of months this boy sent a message saying he was in love with her. They hardly knew each other and hadn't seen each other. We told her that, although that was special, he appeared to have relationship issues and it would be best to not encourage any relationship. When she turned 18 we gave her a new phone. A few months back she and this boy rekindled a friendship. Last week she told us that he asked her to date him exclusively and she accepted. Mind you they still had not seen each other since camp over a year ago. Our daughter told us that he had recently been engaged to his old girlfriend. We warned her that this didn't feel right and to be careful. To give you some history, we asked her to not have a boyfriend until she was 18 but she betrayed our trust twice and did anyway, and neither relationship ended well. Now after 2 weeks they are talking marriage and planning a life together. They've met once now a week ago in person, the first time they had seen each other since camp. Our daughter told us she was meeting friends but did not explain he would be there. I must confess I checked out his Facebook and found out they were meeting. I did not stop her but afterwards I looked at his FB and saw an inappropriate picture of her sitting on his lap. I was angry so I sent him a personal message. We have not even met him yet. So we set a new house rule that we need to meet all dates prior to our daughter going out even though she is 18 and told her she is not to see him again until we have met him. (She is the youngest of five and the first to date someone while still at home so we never felt we needed this sort of rule in the past. But with her deception about bf's in the past we feel this is important.) Her boyfriend got mad that I sent him the message.
My daughter and I have had a couple of good heart to heart talks even after I sent him the message. I told her she or he best not block me from FB. She knows I have been checking his out. She actually told me I should ask to become his friend on FB. But I told her I didn't want to until we had met.This week he and she started sending suggestive pics and memes to each other and calling each other babe and baby. I saw these on my daughter's timeline, not on his Facebook. They really do not know one another that well, neither are very responsible, and I am very concerned as to where this is going. I confronted my daughter about the inappropriate suggestive pics and memes, which she sees nothing wrong with. She is out of town until tomorrow. I decided to offer a branch of peace to him and explain my concern by sending him another message, hoping to start over and let him know we want to give him a chance. I discovered that he blocked me on his Facebook. I am not sure how to respond to my daughter when she returns home tomorrow. We do not know this boy. We know he has issues, was taken from his mom because of her abuse of him at 16 and was moved across the country from his mom and siblings, and he was living with his aunt and uncle near us, and they kicked him out after he turned 18. We don't know why. Our daughter won't tell us the reason. She says he wants to meet us and he can explain that himself, but he makes no effort to meet us. I know it's been only a couple of weeks. I assume he is very angry with me. I do not know him and want to give him the benefit, I wish I was granted the same.
I am a kind and friendly person but you mess with my kids and I kick into protection mode. I am a concerned mom. I did not post anything on the inappropriate memes or pics, only spoke to my daughter, and I am sure she relayed the message to him and now he has blocked me. I have warned her that that best not happen. I want to treat her as the young adult she is and respect her but she is not acting very maturely. We need to be respected too, she is living in our home. I expect him to respect us also since we are her parents. I have told her many times this past couple of weeks that they are moving way too fast and being immature. I know she might listen to someone else but I am mom so I know nothing. She has a mentor and I asked her to look at the posts and ask her opinion on them—maybe I am being overboard. My daughter tells me she just wants me to be happy for her and support her. But I am not happy for her and cannot support this because they are moving too fast and they are too young. I am fearful we will end up in a big argument and she will be asked to move out. My husband says she is being stupid and will not learn until she has felt the pain herself. He says I am hurting our relationship, both mine and my daughter's and my husband's and myself. He says I am obsessed. Maybe he is right, but I feel she is walking in front of a fast moving train and it is going to be quite a train wreck. Please can you offer me some meaningful advice. Just because she us 18 I do not expect her to do whatever she pleases while she is still living in our home.
— R
Dear R,
Mothering children is an important job but it does not come with a manual, and we end up floundering and fumbling our way through it at times. Other moments are filled with successfully keeping them safe, happy, healthy, and prepared. If we stop to consider all of the threats to our children's safety, we would spin them into a bubble-wrap cocoon and never let them leave the house! As parents, we wish we could shelter them from the countless threats to their safety and happiness, but the truth is, we can't. But we can prepare them. Ready them with knowledge as well as with the harder lessons, like negative consequences, that aren't so rosy sometimes. It is tricky to know when to lean in and when to pull back, because all of us develop at different rates.
I sense from your letter that you are not confident in your daughter's ability to understand the magnitude of her choices or to handle the consequences she may face due to any mistakes along the way. Your husband may not have found the best descriptor in classifying her as "stupid" but she may actually be ignorant about choices and consequences. The only way to fix "stupid" is not just stepping back and letting them figure it out the hard way. That can work, and maybe is the best thing in this scenario, but there is more to consider. If she is ignorant, give her a way to learn. This is where communication comes in.
You have rightly recognized she is legally of age for taking responsibility for her choices. That's where the conversations can begin. Start with the choices she has made so far and discuss what has come from them. What would she have done differently? What works for her? How does she solve problems? If the answer is mainly by allowing you to solve them for her, she is demonstrating that immaturity you suspect. Maybe she hits the mark half the time and will agree she needs more time and experience to mature. However, if she has consistently demonstrated a pattern of responsibility in the main areas that a young person faces, such as job or school, then you need to support and encourage this because one day very soon she will NOT be living with you and will have to figure things out. Get her thoughts on what she will do IF this or that happens. What if he leaves you? What if he isn't stable? "What if..." questions are a very good way to delve into her problem-solving strategies. If she hasn't thought of these scenarios, she needs to, before launching into a relationship, especially one not supported by her parents, because she will be the one to accept and shoulder whatever consequences may come, including any positives that her choices bring! There are good and bad outcomes. Talk those through respectfully.
You all want the same thing, but you have some differing opinions of how to achieve it. The time has come for you to allow her space to assert her independence. Guide her choices simply by communicating your side, and respectfully accepting any choice that you don't think is best, and sharing with her what you think worked for you when you were in her shoes. It is okay to tell loved ones that you don't think they are doing something well, but it is not conducive to a healthy relationship to try to "catch" people in lies or call them names when they don't see what you see or understand what you understand or agree with what you believe. If she cannot live according to the rules you have established in your household, then leaving and being independent is a choice she can make WITH you. It is a simple contract that you all can make together, mutually respecting the place each of you holds in life. You expressed you do not want her to date this young man until you meet him. This is a good place to start.
— Amy
Ask Dr. M. for Advice on Your Problem
Top of Page
— September 24, 2017 —
My 17 year old daughter is a good girl! She hangs around good groups, and has always been a rule follower. The problem is she is very disrespectful to me, her mother. Curses at me and says she hates me because I set limits and boundaries. My husband does not back me up and this has led to division in the home. I do not know what to do with her extreme disrespect! She will be going to college and living in a dorm in our hometown and told me she is living in the dorm because she wants to get away from me and rules. I have had her start washing her clothes and she has gotten more angry. I told her it is time to start doing this and that it is part of life and not a punishment. I feel defeated and need help on how to have her be accountable and respectful.
— Chass
Dear Chass,
Let me say that your letter could be used as universal declaration of frustration of many parents. You describe your daughter as a great person in almost every way, one who is successfully navigating the challenges of her phase of life. You need to give yourself some credit for that. The dilemma you describe is actually rooted in the fact your daughter is well-adjusted and unconditionally loved. She is secure in the feeling that you will love her regardless of how she treats you, which is probably very true, as most parents will attest. However, these realities don't remove her from the responsibility to accept the consequences of her actions. It may be a great opportunity to have a discussion with her about how relationships work best.
The source of relationship dysfunction is often unfulfilled expectations. Through this lens, you may see that your daughter meets most of your expectations (to have good friends, to do well in school, etc.) but has failed to do so in the area of respectful behavior when relating to you. The flip side of this is to find out what are her expectations of you. Obviously, she resents some of your rules, which is another way of stating that she is finding your expectations problematic. Communication is going to be key here. For example, she needs to learn how to do her own laundry because it is unreasonable to expect you to do it when she is at school. Perhaps she is clinging to the care you've always provided because of fears relating to leaving home. A compromise might be in order; she can demonstrate that she knows how to do laundry and you can do it until she leaves and is ready to embrace independence. Laundry is just one of the many responsibilities she will be taking on in college and shouldering the consequences of her willingness or unwillingness to take them on. Her roomies won't have the same unconditional regard for her as you do, and won't do her laundry, dishes, homework, etc.
Your daughter is struggling with needing you and at the same time, wanting to be independent, and you are struggling with preparing her for responsibility while she tries to reject your guidance. You both need to communicate your expectations of one another, explore how reasonable they are (asking questions like: "Are the limits and boundaries flexible? Is the expectation of demonstrating life-care skills for punishment or preparation?"), and find ways to support one another in a positive manner. Growth and change is not only a physical phenomenon, but also a part of relationship evolutions. It requires us to make adjustments to meet challenges to promote harmony. Your role in your daughter's life may be changing, but only into a different, not worse, way.
— Amy
Ask Dr. M. for Advice on Your Problem
Top of Page
— September 10, 2017 —
My son who is 20 and lives at home started communicating on line with a 17 year old girl a year ago. They began exchanging explicit pictures before she turned 18. She lives 7 hours away in another state. My son thinks he is really in love with her so we invited her to join us on a camping trip in a state neighboring hers. She agreed to come and then backed out the day of the trip. A month later, her mother drove her to our town and rented a hotel room where my son stayed with them for the weekend. He lied about where he was going and neither the mom or daughter were concerned about his lie. I now do not approve of this young lady. My son went to visit her in her state two weeks ago. She helped fund his trip. We told him he would have to move out if he went to see her. He did go and stayed for 10 days and asked if we would come and pick him up. We did go and get him only because he has to take a state test to get his high school diploma and only has three months left to do so. He plans to return to this girl when she graduates in June, move in with her and eventually marry. I have told him I will cease contact with him if he follows through with this plan. Her mom really likes him. His girlfriend doesn't understand why I don't like her and has made no effort to reach out to me. My son is very immature and is not even supporting himself. They have her mother helping them out. What should I do?
— Cary
Dear Cary,
Unfortunately there isn't much you can do except in a fairly neutral way talk to him about your concerns. However, I would rethink the ultimatum you've given him of choosing either "her or me." I appreciate how distressing this situation is, but the more you try to force him to stay away from this girl, the more he will do the opposite. Remember when he was two and you told him to not do something, the more appealing that "something" became? June is a long time away in the life of a 20 year old. The more angry and negative you are, the more you will push him towards her. Perhaps you can encourage your son to participate in family counseling, which would help you deal more effectively with your son at this stage in his life, and would also help him make choices that are more appropriate and mature.
— Mrs. B.
Ask Dr. M. for Advice on Your Problem
Top of Page
— August 26, 2017 —
My daughter is 19 years of age, a top student in the university, has a good part time job and a great paid internship. But she is very quiet in real life and has very few friends or other social connections.We know she is an active online video game player and met a 27 years old man from another country who is poor, has no real qualifications or a normal job. She has funded him for a trip to see and stay with her already, and now she is going to spend three weeks in his place. We just found out he has mental health problems. We worry about my daughter's safety, She will be spending 33 hours of air travel and staying in a country that uses a totally different language, and there is no consulate to help her if anything goes wrong.
— Laura
Dear Laura,
I can certainly understand why you're worried. But I have several questions: How do you know this man has "mental health problems" and what is the nature of those issues? If he is depressed or anxious, that does not mean that he is dangerous. What has your daughter told you about why she is attracted to him? Maybe he has qualities that you don't know about. Although you can't forbid your daughter from going on this trip, you should have a conversation with her in which you express your concerns and help her figure out what she can do if she runs into trouble in another country. The more information she has the better. What's important for you to remember is that you can only influence your daughter if you are open to hearing her opinions and decisions. She needs to know that you support her unconditionally even when you disagree with her.

Ask Dr. M. for Advice on Your Problem
Top of Page
— August 11, 2017 —
Hi there. My amazing 15 year old daughter recently broke up with an wonderful 16 year old boy. They dated for 8 months and she just decided quickly that she wasn't ready for such a serious relationship and that was it, over. As silly as it sounds, her dad and I are worried she may never meet another amazing guy again, who treated her so well, so respectful and adored her. We fear she made a choice that she may regret and it will be too late to do anything about it. They still text all the time and he is still struggling with why they broke up at all when things seemed to be going so well. I feel the time she has to change her mind is narrowing and I'm fearing regret and further disappointment for her based on this decision. How can we help her and how can we help ourselves not internalize this so much? We know she is only 15, but fear she is losing out on someone amazing. Please help!
— Cody
Dear Cody,
It is wonderful that your daughter chose someone to date that you and your husband both like and respect so much that you fear she may not meet anyone as wonderful as him again. Too often, we hear the opposite situation so it is great your daughter has shown good judgment in who she dates.
It is not clear whether you have already discussed your concerns with your daughter, and if you did, how she reacted. If you have not spoken with her yet and want to do so, I do not think you should tell her that she will never find such a wonderful fellow again since you do not know that. That also sends your daughter a message that you do not trust her judgment. She and her former boyfriend both have a lot of growing up to do, and time and experience could change both of them. There is no way to predict that. So, even if he is perfectly suited to her now, either one of them could and probably will change over the next five to ten years, and maybe they will not be as good a match then. Your daughter may also need to have other experiences in dating, even if some are not happy ones, in order for her to know the qualities she most wants when she does decide on the "right" man.
You are right that although your daughter and her boyfriend still text often, eventually he will want another relationship and they could drift apart. Maybe when that happens, your daughter will decide she cannot bear to lose him and maybe they will stay together. But once you have expressed your own feelings, you have to let her make her own decisions. Given what you said, she will learn from this experience and will have other opportunities to meet a wonderful man. It is true, there are a finite number of people each of us can fall in love with but given how life zigs and zags, it is also true that there is more than one special person who could appreciate and love her.
As far as your internalizing this so much, I suspect the abilities that make you concerned parents will help you cope with whatever she decides to do. The main thing is for her to know she has loving parents who support her, and it sounds like she has a good role model to appreciate the joy that comes from being in a mutually respectful, loving and happy relationship.

Ask Dr. M. for Advice on Your Problem
Top of Page
— July 28, 2017 —
I have triplet 14 year old grandkids. I'm always sending packages, gifts, and checks. My daughter would always tell them to thank me. But lately it's not happening. All I want is a text, phone call, something to show appreciation. Just a simple thank you. I think they need to learn. I was thinking of simply sending a card and no check to send a subtle message. But a part of me feels a diplomatic conversation stating my disappointment is in order. I don't want to cause a rift and questioning my feelings. Please help. I am financially handicapped and cannot see them often.
— Rita
Dear Rita,
Not only are you a thoughtful grandmother, but also you are on the right track for encouraging the triplets to communicate the thanks that they surely feel, despite not taking the time to tell you. I admire that you are open to the idea of a text or an email as options for communication with this younger generation. A more effective subtle message (than the idea of withholding gifts as a big hint!) would be to text the grandkids to inquire how they liked their gifts. You can also reinforce the use of good manners with this format by letting them know that you are fine with using texts as a way to express thanks after they receive gifts in the future. By stating that, you are allowing them to function within the parameters of their communication comfort zone as well as reminding them that a thank you is appropriate. They can learn from you through texts, too!
Your sacrifices to express your affection for them by taking the time and resources to send them gifts to stay close as the miles separate you are admirable. Texting them can also become a new and easy way for you to continue to bridge the gap and stay in touch. There are many areas of wisdom and experience you can share with them. There is nothing like a grandmother to remind a child of unconditional love, as well gently demonstrating ways to observe proper manners.
Best, Amy
Ask Dr. M. for Advice on Your Problem
Top of Page
— July 18, 2017 —
My husband and I are the parents of a 21 year old son. We are ranchers in Montana where the sport of rodeo is very popular. My son has had a fascination with one of the events, saddle bronc riding and against our wishes started participating in this in high school. He had mentors who encouraged him and we were there for him as well although we frequently expressed our concern over his safety. Since the start of this sport he has suffered many injuries including a broken arm, three concussions, a torn acl, and an orbital fracture. We thought he would hopefully retire after the long recovery period with his last injury, but he informed us he is going to start again in the near future. Even his mentors mare suggesting he stop but he won't take anyone's advice. I am devastated by this, especially by the thought of another head injury or worse! We have talked about making him pay for part of his health insurance (he's still on our plan). He has also battled Crohn's Disease since he was eight (in remission now). He has heard all the talk about the dangers and won't stop. Any advice? Thank you.
— Carhartcrazy
Dear Carhartcrazy,
Ah, the magical age of 21. As parents, we can recall that time in our own lives as being one of the most significant shifts in our developmental process and behaviors. The drive to become independent often includes moments of learning and discovery that can only be experienced on an individual basis, which is why children transitioning into adulthood sometimes abandon reason for a more trial-and-error approach—a lot like toddlerhood, a time when children figure out their potential and limitations through experience.
It's understandable that you would be frustrated as well as concerned about your adult son's risky behaviors. These sorts of choices are set before people entering adulthood like a buffet brimming with so many food options they end up overloading their plates and paying the consequences after overindulging. But consequences are key to our learning process. Currently, your son has suffered through some significant health-related consequences as a result of the choice he has made to engage in the rodeo activities. He has the power to decide whether or not he is willing to take the risk, weighing the consequences that he has already suffered and that he may encounter still. Where he doesn't have the power is with his Crohn's disease, and he may be subconsciously feeling anxiety over a loss of control. Often, those who can't control certain stressors in life will seek to seize control in other areas. Being sensitive to his struggles is important as you try to understand his stubbornness.
Right now, your son does not shoulder the risks and consequences alone. However autonomous he may feel by insisting on continuing to participate despite the injuries he has sustained, he is still cushioned by your support and insurance, therefore not accepting the full weight of his responsibility for his choice. Since you have already tried to convince your son not to continue with the rodeo and he hasn't listened, perhaps it is time to give your son complete autonomy by letting him accept the full spectrum of consequences that may occur due to his decision to participate in a potentially dangerous sport. As a parent, I can sympathize with the challenges you are facing by considering such a move, but it may allow your son to transition more completely into adulthood, as he seems eager to do.
— Amy
Ask Dr. M. for Advice on Your Problem
Top of Page
— June 30, 2017 —
When my daughter graduated from high school, my sister-in-law gave her $5,000 to purchase a car. her reasoning being that she had never gotten my daughter a birthday or Christmas gift, and she was saving it for something big. This was a gift from her. But she wanted a say in what my daughter purchased The sister-in-law wanted our daughter to get a sports car, our daughter wanted something with 4 wheel drive since she was going to be commuting to college, and my husband and I agreed with our daughter, We live in the northeast and get lots of snow so a sports car is really quite useless in the winter here. Anyway, long story short, we found a Jeep Cherokee, and that is what our daughter got with the money. The sister-in-law was NOT HAPPY!! We were like, you gave this money to our daughter as a gift, she should be able to spend it on what she wanted. There should be no stipulations, a gift is a gift. In the meantime my sister-in-law had told our son, who is 4 years younger then our daughter, that she would be doing the same for him when he graduated from high school. He has done nothing but count on this false promise. Now, when my son graduated, the sister-in-law did not do anything for him, not that I really care, because she and I do not see eye to eye on anything. However my son feels shafted. and I know he feels hurt that she didn't do anything for him. Not even a card!! Financially my husband and I can't purchase a vehicle for him. The sister in law has never gotten our son any gift for birthdays or Christmas, just like our daughter. I'm not out to split the family and I don't want him to be disrespectful towards her during family gatherings, but she is the one who made promises and didn't keep them. All because we didn't follow her stipulations in the purchase of a car, but he has no use for her. I feel the same about her but I do try to suck it up and I act politely towards her, not really sure why I do it, probably because she's my husband's sister. Anyway my son will leave the room if she is in it. He doesn't talk to her, it's as though she doesn't exist. It's a very cold, cold relationship. Hatred is a better description. Should I let it go, or should I step in, and if I do step in, how should I do it tactfully since I really have no use for her either?
— Mary
Hello Mary,
I want to first address the situation with your daughter. Handling that differently in the beginning might have prevented the current drama. Why wasn't the stipulation straightened out prior to purchasing the Jeep Cherokee? If an agreement couldn't be reached, the money should've been returned to your sister-in-law. She probably felt used because she didn't know that the terms of her gift had been violated. The best decision would have been to not take money with stipulations attached; you can't accept the gift and then go against the conditions.
What your sister-in-law did to your son was wrong—making a promise that she didn't keep. However, it's important to teach your son that he should be respectful to her (she is his father's sister) and help him deal with his disappointment. Let him know that in life this will happen and he will need to know how to bounce back. If this situation is to be addressed now, it's best to let your husband do so since it's his sister.
— Velben
Ask Dr. M. for Advice on Your Problem
Top of Page
— June 17, 2017 —
My 17 year old son has been dating a girl for about a year now. They are inseparable. My son used to have career goals and ambitions. Now, his world revolves around her. They are both going to be seniors next year. What's the best way of getting him back on track without alienating him, and possibly pushing him closer to her? Thanks.
— Snooky
Dear Snooky,
It's good that you recognize that if you push your son too much, he might do just the opposite and spend even more time and energy on his girlfriend. You stated that you want to get your son "back on track." But he might be keeping up with the demands of school while his world "revolves around her." If she is a good student, she might be a better influence than you think. Consider having a conversation with both of them, inquiring gently about their plans for college. Don't focus on career goals, since at 17 those goals are probably not very realistic and will most likely change. Instead, suggest college visits, which can be exciting and fun and encourage both of them to think about their future.

Ask Dr. M. for Advice on Your Problem
Top of Page
— June 3, 2017 —
My granddaughter confessed to me that she has been lying to her parents about seeing a boyfriend they disapprove of. She says she feels terrible about it, but it's the only way she can see him. I know she is a good 17 year old girl, gets good grades and works part time. Her boyfriend is a senior and also does well in school but hasn't been able to get a job. Her parents don't want her to have a serious boyfriend because they fear it will lead to sex. I'm at a loss as to what to say to her or her parents to make things better for all.
— Concerned Grandma
Dear Concerned Grandma,
Your granddaughter is lucky to have such an understanding grandmother, one she can go to with a serious problem. Since she is a "good" kid, she was probably feeling very burdened having to keep such an important part of her life from her parents. Since you seem to understand both your granddaughter's viewpoint as well as her parents' perspective, you are in a good position to help them have a productive conversation. Start by making sure your granddaughter wants you to intervene since she may have simply wanted you to listen. If she is open to your bringing the family together, find a time when everyone is available for what you should describe as "an important conversation." Before getting into the substance of the issue, lay out the ground rules—one person talks at a time without being interrupted and everyone remains respectful regardless of what is said. Since your granddaughter came to you for help, give her some advice about how she might talk with her parents about the issue. Your most important role in all of this is to help two generations find a way to compromise so that they can continue the loving relationship that is important to all of you.

Ask Dr. M. for Advice on Your Problem
Top of Page
— May 21, 2017 —
My 22 year old daughter has mostly Muslim friends. We are Catholic. She became close to them in college because she is studying Arabic. I actually encouraged it to help her learn but now she really doesn't have any non-Muslim friends and it scares me. Her best friend is a wonderful girl but she can't to do things that her non-Muslim friends do, and I want my daughter to enjoy her life—like dating and going swimming. Am I being stupid for worrying?
— Ollie
Dear Ollie,
Like all religions, certain practices like swimming, dating, etc. are on a continuum from orthodoxy to more modern. I know Muslims who date and Muslims who go swimming. That being said, I do not know how orthodox your daughter's friends are. There are also a lot of ways to have fun, and it sounds like her friends will not stop her from dating and engaging in fun activities. Indeed, you may be surprised to see her double date with some of her Muslim friends or go swimming with them. You probably taught your daughter the value of being interested in different cultures and have fostered the value of diversity and inclusiveness. If she seems happy, you don't need to worry.
— Mrs. B.
Ask Dr. M. for Advice on Your Problem
Top of Page
— May 5, 2017 —
My 23-year-old son has always been a normal kid. Went to college, got a degree in accounting and then got a job at a business firm crunching numbers. Never any problems, always had nice girlfriends and we got on great. About A year ago he came out as bisexual. He said that as a bi guy, he likes men and women equally as sexual and romantic partners. He had only just gotten out of a relationship with a girl at the time and had fallen very fast for one of his male co-workers. It was easy to tell how in love with his guy he was. More so than the girlfriends before him. My son confessed he had found 'the one'. Anyway, they had a nasty breakup. His boyfriend, who was gay, had cheated on him when drunk with another man and they couldn't patch it up. My son was heartbroken. He took the break up very hard. started drinking more and being more reckless. Two months ago he comes home with two dates—a girl and a guy—at the same time. He claims they are all monogamous to each other. The other man is also bisexual. He claims he loves the man and he also loves the woman and they both feel the same way about him and about each other. This isn't just a threesome thing. They have sworn loyalty and commitment to each other. The two guys met first, started dating, learned they were both bisexual, invited a female friend in for fun and then they kind of all fell for each other. The three of them are talking long term. Buying a house. They laughed about how all three are working, so a mortgage would be easier to pay off with three wages and even about having children. Having children! I'm concerned about that one. So if the girl falls pregnant they wouldn't know which man is the biological father. But I can't help but think this is part of the heartbroken side of my son who was jilted by the man who he thought was the love of his life and is now trying anything new to fill that void. He is 23 years old. I am really struggling with this relationship. I don't care about his sexuality. But this is a lifestyle choice and I think it is a terrible one. Two men and a woman. If they started a family and stayed together, they will be judged wherever they go. My potential grandchildren will be judged and thought of as weird by their school. And half of marriages don't last. How can a marriage-like relationship with three people in it last? The boys started dating before the girl was included, maybe that will be a potential source of jealously for the girl. Or what if one of the guys has better luck being fertile than the other and it is obvious who the children belong to? Another potential source of jealousy. I am not coping well with this. It is giving me headaches. How can I talk my son out of this? My wife has been tempted to call his ex, and see if they can patch things up as we both think this started when he broke up with his long term boyfriend. We don't care he is bisexual and likes both genders, but this relationship is unhealthy. What can we do? Will contacting the ex he is still in love with help us? Or make things worse? As least we know the ex won't be dragged into this bisexual relationship, as he is gay. So my wife claims that is something in our favour if we asked him to help us. My daughter thinks we should just let the three of them be happy and support them. But I am still worried. Should we try and talk to our son? Can we intervene? What is the protocol for relationships like this?
— Dean
Dear Dean,
It sounds like this has less to do with your son and more to do with your own struggle coping with his polygamous lifestyle. You are not the only person to disagree with this kind of lifestyle, as monogamy is the societal norm. Your concerns as a parent are valid, as we will always want what is best for our children. On the other hand, your son seems like a smart adult who is merely exploring his identity and what makes him happy; something that is normal at his age. That being said, this is something for him to figure out, not you. While it is possible that he is trying to fill a void, he may genuinely feel like his needs are being met and satisfied at the moment, whether it works out in the end or not.
Trying to intervene by calling his ex may merely ruffle feathers and cause your son to lose trust in you. It is often difficult to cope with what we do not understand, so I strongly encourage you to have your son help you understand what about this dynamic he enjoys and how it works. The success of polygamous relationships is contingent upon many factors, and the way they deal with jealousy is usually discussed amongst themselves. Psychology Today has a great article that explains this.
In sum, you don't have to agree with what your son is doing, but it will make your life easier to work on accepting the situation for what it is right now and not for what it might look like in the future (despite talk of cohabitation and kids).
— Kim
Ask Dr. M. for Advice on Your Problem
Top of Page
— April 14, 2017 —
My 18 year old daughter graduates high school this June 2. We live in Florida and she has an online boyfriend who lives in Spokane, Washington. He is 22, unemployed and has less than 2 years of college. My daughter is graduating with a high GPA and scholarships. She wants to throw all of it away to move in with this guy and go to a college there that will cost substantially more and would require us to take out parent loans and her to take out student loans (the Florida school will not). We are trying to convince her to get her college degree here in Florida with our help. If she goes there she will lose the scholarships and our financial help. This guy is telling her their relationship may not work if she doesn't move there. She is telling us if we do not help her financially at this school in Washington she will never speak to us or have us a part of her life or her future wedding, kids etc. We took away her phone, computers and vehicle. We told her if she can pay the monthly cost of these items then she can have them back. We did this after she was unable to come up with a real practical budget to pay for college or even support herself. What do we do? Do we just let her give up her scholarship and real chance to get a degree? She is an only child who has no clue how hard it is to work and earn money to pay bills.
— Cindy
Dear Cindy,
This situation sounds very painful—both for you and your daughter. Teenage judgment can leave a lot to be desired, especially at this "separation" time. It's very likely that this relationship will not be a sustainable one, so you need to ask yourself whether you and your daughter should be going into debt to support her desire to move to Washington.
You're being "held hostage" by the threat that you will be cut out of her life, which is an unbearable thought for you. In terms of the action you might take, there is no right answer—just a lot of questions you and your daughter have to ask. Has she thought about taking a GAP year, and deferring the scholarship and admission to college in Florida? During that year, you could invite this boyfriend to Florida or go visit him in Washington (the reality might be less interesting that the fantasy online love). Have you talked to your daughter about the pressure she's experiencing from her boyfriend? What are you willing to pay? If she wanted to go to a college in another state because she liked the sports team or it had a good reputation for the major she wanted to pursue, would you be willing to pay for that? I'm sure the idea of her traveling across the country to be with someone she has never met is very unsettling to you. She is threatening you the way her 'boyfriend" may be threatening her. There is a lot to sort out—both for her and for you. A family therapist might help all of you find answers.
— Mrs. B.
Ask Dr. M. for Advice on Your Problem
Top of Page
— April 2, 2017 —
Please help me! My daughter is 16 and in her eyes in love with this boy from school. She has liked him for over a year now, and he was stalling. They have had a "phone" relationship this whole time, since last October. I have told her that she has to give him an ultimatum. If he doesn't show signs that he even wants to be in a relationship then she needs to tell him she's done with him and this "phone" relationship. That lasted a whole 3 days. It was summer vacation, and he never came over to visit her once! I threw her a huge 16th birthday party, and he didn't show! A lot of other friends came though. School started and she seemed very happy all the time. Well it turns out he was showing her that he wanted to start "talking." She said he told his friends they were talking and that he liked her. She went to all his football games and he even started to kiss her after the games, and when school let out. He would walk with her out the doors and kiss her goodbye. I asked her why the sudden spark. She said that I didn't know him and this is a huge step for him. Really???
So anyhow, today after school she was clearly upset. She did not want to talk about it at all. After dinner I noticed tears in her beautiful eyes and I urged her to tell me what happened. She said she was standing in the hallway waiting for him, and he walked right by her with his friend! Then after school where they usually met for a kiss, he tells her he doesn't want to talk anymore, and he needs space! I was so pissed! Only because I knew this would happen again, it was just a matter of time. I hope you get the general idea of what an ass this kid is. But to her, he is a GOD! A while ago I had asked her how he made her feel. I said a young man should be chasing after you not the other way around. That he should ACTUALLY want to meet her parents, and just strive to make her happy. A young man should not make you feel bad all the time. I'm so upset there are tears on my face! My husband, her father, even told her that that is NOT a way to treat a woman!
I looked on her phone as she's sleeping and there are messages between them both. I can't believe my eyes as he clearly wants a break, and she's asking him for one last kiss!!! She sees all of her friends having boyfriends and being happy and she's all alone. She wants someone to love and want her so badly. I'm so confused about that. She is loved fiercely by her huge family. She is not ugly or heavy. She had told me that if a guy showed some interest in her, that she would be hooked and drawn to him very fast. Not even getting a chance to get to know him, before she says she loves him. So why? Why does she get hooked to a boy so damn fast? Why can't she tell him she's done with his BS? Why can't she be strong? Because I know for a fact, that other young men in her school would've been interested in her had it not been for her tunnel vision straight for this not so kind boy. I told her to block his number from her phone so she could have time to heal. But no way. She thinks I'm from a different planet. When I talk to her, I feel as though she looks right through me. Just so you are aware, I'm 34 and she's 16. So I'm not as ancient as she may think. Please help me get through to her! I fear that whatever I say and she agrees to, will be thrown out the window the moment she walks into school.
— Lisa
Dear Lisa,
It is painful to see your daughter want to be loved by a guy so much that her standards for what that "love" is like are very weak. Sadly, there are lots of teens and even young women who are in love with the idea of being in love. This kind of behavior is worse for your daughter since many of her friends are in relationships. Of course you are angry at this guy and concerned for your daughter. You know exactly how this guy is playing your daughter, and you also know the kind of good guy your daughter deserves, someone who would meet the family and try to please her. Certainly not someone she has to chase.
You are absolutely right that if YOU or your husband tell her again why she should not be pursuing this guy who does not treat her well, she will probably ignore you. She will think you just do not understand. Of course 34 is young, but to a 16-year-old anyone over 30 seems ancient to them. And because you are her parents, she automatically is less inclined to listen, even though at some level she knows you love her and are looking out for her best interests. At her age, friends and even friends' parents (if she deems them cool enough) could be more persuasive than you. The fact that she is loved so much by her family is definitely not enough from the perspective of your daughter even if she would be devastated if that love were not there. It is just that right now, she feels she needs a different kind of love than family love.
Have you asked her if there is anyone at school who might be interesting to her (if her phone guy were not in the picture)? Have any of her friends tried to fix her up with a guy they like and think she would enjoy? You said she is nice-looking and has beautiful eyes, but is she aware of that? Not that the external looks should be so important but for teenagers especially, a lot is wrapped up with how they think they look. If, for example, you get the sense she is insecure about her looks, you could suggest a mother-daughter day that includes her getting a different hair style or a piece of clothing that would boost her confidence in her appearance. You might also delve more deeply into why she has become so attached to someone who treats her so poorly.
Does your daughter have hobbies or school subjects she really likes? Sometimes, joining an after-school group is a good way to meet new people and maybe guys who do not already have girlfriends. If your daughter has a best friend you like and trust, encourage your daughter to talk with her friend and get her opinion about this guy. A good friend can say something that a parent cannot. But, do not talk with that friend directly (or the friend's parents) as that would be seen as interference.
Another thought is to ask your daughter to give up this guy for one month, just not send or answer text messages, not go to his sports events, and not look for him after school to give him a kiss. Just see if she will try that for one month, not as a punishment but as an experiment to see how she feels after a month, and how he reacts. It may open her eyes to other, much nicer guys in school. And it may help her realize that she can live without him.
Finally, try to respect your daughter's privacy (looking at her phone while she's asleep does not seem right and could destroy your relationship with her if she finds out), while being there for her when, sooner or later, he does break her heart, if she does not give him up first. Keep in mind, this is a phase she will outgrow, and that some lessons your daughter may have to learn on her own.

Ask Dr. M. for Advice on Your Problem
Top of Page
— March 18, 2017 —
My daughter is 19, great job and friends—a well liked girl. She hates my bloke who used to live with us for 5 years until he kind of cheated on me. We are back in a relationship again, living apart but closer than ever. She's making me choose between them and I'm feeling so torn. I love them both so much but she's says I only love him. I just don't know what to do.
— Anne
Dear Anne,
You describe your daughter as someone doing well in her life. Do you think she may know something about this "bloke" that you are being blind to? I'm not sure what "kind of cheated on me" means. There could be many reasons that your daughter is "asking you to choose." Have you asked her? Is she afraid that you are doing something that could be harmful to you? Is your daughter feeling "left" by you? If you and your daughter have trouble having this conversation, the two of you might talk to a counselor who can help clarify and understand better each of your perspectives.
— Mrs. B.
Ask Dr. M. for Advice on Your Problem
Top of Page
— March 5, 2017 —
I have a 16 year old daughter and I've caught her a few times doing things like smoking, drinking, cursing etc. The first few times I grounded her after having a serious conversation with my husband and with her, but I saw her smoking again recently even after I talked to her and she said she was sorry and she would never do it again. She lies to me too sometimes and I am really worried about her. I don't want this to happen. She can be the best daughter I ever wished for, or she can do things like this. How can I help her and stop her? Please help me!
— Distressed Mom
Dear Distressed Mom,
I understand why you are concerned about your daughter. You certainly want to discourage unhealthy activities, especially smoking and drinking, which have long-term negative implications for her health. And it is hurtful and worrisome that she is lying to you. That said, it is natural for a teen to want to be independent, to experiment, and to act in ways she feels are "grown-up." It is great that she is sometimes the best daughter you could ever wish for but the question is how to help her avoid the negative behaviors.
Your first step should be gathering as much information as possible. Would you consider your daughter's friends to basically be "good kids" or are you worried she has fallen in with a rough crowd? Talk casually with the parents of your daughter's friends to see what they've noticed both in your daughter as well as in their kids. When she curses and you call her out on it, does she get embarrassed suggesting she knows that she's aware that you and your husband do not approve? She might be using this kind of language to show you that she's grown up. She might be in a phase where she thinks she knows more than you do. When you say she is drinking, have you observed this or has she told you? Do you have any idea if it is an occasional beer or harder liquor in greater quantity? Look at whether her behavior at school has deteriorated—are her grades getting worse or is she acting out at school? Those changes would suggest a deeper problem, and you might want to consider short-term family counseling.
You have tried talking with her and grounding her, and neither seems to be working. You are doing the right thing by keeping the lines of communication open with her, and complimenting her for those times when she is the "best possible daughter." But next time you see her smoking or hear her cursing, you could say you want to talk with her. Instead of grounding her, maybe you can come to an agreement that if she stops smoking and cursing for two or three months, you will treat her to something you know she would love. Or if you see problems worsening, rather than grounding her, you could limit minutes allowed on her cell phone, which would be painful as that is almost a lifeline for teens. You will sense whether a reward or punishment approach would work best and keep the lines of communication open with your daughter.
There are no easy answers—or you would have thought of them already—but I very much hope these ideas help you.

Ask Dr. M. for Advice on Your Problem
Top of Page
— February 20, 2017 —
I have a 17 year old daughter and a 19 year old son. My daughter has recently become invested in a local church that her friend introduced her to that is quite extreme. This has been going on for about a year and she is becoming more and more obsessed with it and I am getting worried. My son recently came out as gay and his sister reacted terribly. Throwing stuff at him, shouting and screaming and saying he would burn in hell. I love my son and I disagree with my daughter. She is dismayed that my wife and I are sticking by her brother. She has threatened to move out if we don't kick out her brother. I am not going to kick my nineteen year old from his home. I love him and he is staying put. But I don't want my seventeen year old to leave. She is not even a legal adult yet. Going by the law she is still a minor. And I am worried that if she moves out and goes to live with those friends from her new church, she will become even more radical. I am being forced to decide between my children. My son is more stable and would do better on his own as he has a good head on his shoulders and is older and more mature. But it would be so unfair to kick him out when he has done nothing wrong. I feel like I should stand with my son, but the thought of kicking out my youngest child, my little girl, is so hard. But she refuses to say and is making this really hard. What can I do? Am I an awful dad if I let my underage child leave home to protect an adult child? What can a parent do to stop a teenager from becoming radicalized? My daughter has been radicalized by an extreme Christian group. But you always here stories of children being radicalized into extreme Muslim groups. From friends or from the internet and it is not a problem with just one religion. Young minds are drawn in my strong personalities and extremist groups are full of them. What can we do? What can I do? Is there anything I can do to help my daughter? Or repair the relationship between my daughter and son? I don't want to have to pick a child.
— Nick
Dear Nick,
As a loving parent, you should never have to pick one child over another—regardless of their ages. As you already know, both of them need your support and love. I'm glad that you and your wife are in agreement since you can take care of each other while the two of you together figure out how to deal with the conflict in your family. Before you ask one of them to leave your house, consider every other alternative, including bringing in a more objective party—perhaps a mediator or family therapist—who can try to resolve the conflict in a way that is fair to everyone and keeps the family unit intact. Keep in mind that if you push your daughter against the church she's "obsessed" with, that may actually drive her even closer to it and away from you. At the same time, you are right to protect your son from her outbursts.

Ask Dr. M. for Advice on Your Problem
Top of Page
— February 4, 2017 —
My daughter is 19 years old and in her second year of college. A few months ago she started dating this young man who's 19 as well. He seems nice and attends college too. My concern is he doesn't seem to have a curfew and my daughter has missed curfew a few times. I spoke to her about it and warned her that next time she will not be able to hang out with him. Plus she is not allowed to hang out in his dorm or his parents' house alone. I have asked my daughter to have his mom call me if they plan to hang out at his house to make sure a parent is home. My question is: Am I asking too much from my daughter and her BF. I don't want to push her in the opposite direction or into lying to me. I also don't want his parents to think I don't trust her or the Bf. I just think kids will be kids and they think they're in love.
— Cindy
Dear Cindy,
If you don't want to push your daughter away or into lying, you probably need to start thinking about her as the adult she is. Consider whether the rules you have for her, including the curfew you imposed on her and the rule that prohibits her from hanging out in her boyfriend's dorm or at his house when his parents aren't home, are still realistic. Since your daughter is 19, I don't think it's appropriate for her to get her boyfriend's parents to call you. If you have concerns about your daughter's behavior, talk to her directly. Whether your daughter and her boyfriend are truly in love or not is not really the issue. At their age, they need to make their own decisions, which means they will make mistakes. That's the way they—and all of us—learn.

Ask Dr. M. for Advice on Your Problem
Top of Page
— January 22, 2017 —
My daughter is 17 and has mental health problems, which she is getting help with. My husband won't accept this and keeps tormenting her until she gets upset. He will not listen to me and he will not talk to me about this saying she's a spoiled brat. I feel I am failing my daughter. What shall I do? He refuses to talk to any professional.
— Annie
Hi Annie,
I am sorry to hear your daughter has mental health problems but very glad that she has your full support and understanding. It is extremely important that at least one parent is able to listen to and comfort her. Your husband's attitude must be so frustrating to you, especially as you see how much he upsets your daughter. Since he will not see a professional, is there anyone else he might talk with whose opinion he and you both respect? For example, if your family belongs to a religious congregation, is there someone there he could discuss this with? Does he have any relatives or friends he would talk to with whose viewpoints are more open regarding mental health? If your daughter is in school, perhaps you both could set up a session with a school counselor—just as you would if there were a problem with school work. Your husband might be more open to discussion if he sees this as part of improving her work at school. Finally, if the kind of mental health problems your daughter has are described on a well-known medical web site (such as Mayo Clinic Health Information) and you can print it out, maybe some outside experts could open his eyes a bit. If you still cannot get him to listen to anyone aside from himself, then the best you can do is talk with your daughter when she gets upset to help her through. And if you need help with your role, made more challenging because you are doing it alone, then maybe a professional can help you to do as much as possible to help your daughter. You also need a mentally safe space to share your own emotions because it is so difficult to see a child suffer, whether the illness is physical or mental. So, I hope you have friends or family who can offer you that time to let your feelings out honestly, and maybe just have some time to laugh and relax to restore your own balance. From what you wrote, I do not think you are failing your daughter! If you are truly worried about that, then ask her directly what else you can do to help her. Kids can be surprisingly direct and may have an idea that is better than any of ours.

Ask Dr. M. for Advice on Your Problem
Top of Page
— January 8, 2017 —
My 20 year old daughter is the perfect child. She is doing really well in college, has a well paying part-time job working with children and also volunteers regularly with different children's charities and foundations. She is intelligent, bright and happy. She has a 20 year old boyfriend who my husband and I like immensely. He is a smart fellow with high aspirations and similar interests to my daughter, they both volunteer with special needs children most weekends. Yesterday, however, she came to me and asked my opinion on her and her boyfriend going to Budapest to visit his uncle and see the city for the weekend (we live in the UK). They have been dating for over a year and seem very much in love. I know they are sexually active and do not mind as I know they are very serious about each other and know about birth control methods etc. Should I support my daughter going on this trip? Or is she too young?
— Mum M
Dear Mum M,
Since your daughter asked your opinion about whether she should go to Budapest with her boyfriend, she may have some concerns about the trip. Find out whether she really wants to go or is looking for an excuse (her mom won't let her) to turn her boyfriend down. If she wants to go, and she has always been responsible and smart about her decisions (it certainly seems that way from what you wrote), then I see no reason for you to withhold your support. It sounds like a lovely opportunity for a wonderful and mature young woman.

Ask Dr. M. for Advice on Your Problem
Top of Page
— December 24, 2016 —
My 20 year old daughter just started dating a 20 year old young man. He is very nice and respectful to her, however, on his Facebook page (yes I checked it out) he has a lot of sexual memes posted. I feel that this is not appropriate and may be a reflection of his character. If a family member saw his posts, it would embarrass my daughter as to her choice of boyfriend. My feeling is that it lacks class and maturity to be posting such memes. Should I say anything to my daughter about my concerns?
— Sunflower
Dear Sunflower,
Many people who use social media tend to forget how public they really are. Not only would the boyfriend's Facebook posts be open to your relatives, which could be embarrassing to him and your daughter, but they are potentially available to future employers. I think you're helping him and your daughter by telling them what you saw (without going into detail) and why you are concerned about keeping that information online when others can easily access it.

Ask Dr. M. for Advice on Your Problem
Top of Page
— December 10, 2016 —
I have two teenage grandsons, one 18 and one 16. The 18 year old grandson started talking to and having a relationship with his brother's (the 16 year old grandson) girl friend. It blew up one night when the 16 year old found the texts on the 18 year old's phone. My husband ordered the 18 year old to leave our home, as the 16 year old was crying and freaking out. The 18 year old left on foot in the middle of the night worrying me to death. I now have him in a hotel room so that he is not homeless but his 16 year old brother is still angry and broken-hearted and my husband thinks that the 18 year old does not need to come back home. The 18 year old is out from under my guardianship but hasn't finished high school. I am putting his car over into his name legally and putting insurance on it. He says he wants to leave here and not have anything else to do with this family. What else can I do? I've offered him an apartment so he can have a place to live and be able to finish high school and college.
— Grandmom
Dear Grandmom,
You are in a tough situation—trying to support all the people in your family while they are fighting with each other. Your 18-year-old grandson obviously made a mistake in judgment, something that is not uncommon in adolescents, and has been forced out of his home. I don't think that is an effective or fair way to deal with what he did. Your 16-year-old is dealing with his first heartbreak, and there will probably be others. Your husband seems to have strict standards about what is acceptable behavior from his grandchildren. You haven't mentioned why you have been the children's guardian, but you are evidently trying to do your best to keep everyone afloat. I also don't know what your financial situation is but paying for your grandson's car and apartment is extremely expensive. You obviously care about your 18-year-old grandson, and I don't believe that the best way to handle what he did to his younger brother is to force him to live on his own. Since you and your husband are not in agreement about what to do, I would suggest getting help from a more objective person—perhaps a social worker who can work with all of you to figure out how to resolve the conflict-filled situation your family is in.

Ask Dr. M. for Advice on Your Problem
Top of Page
— November 26, 2016 —
My 17 year old daughter just started her freshman year of college. Her boyfriend's mom bought him a ticket to go visit my daughter in college. His mom was aware that we were not comfortable with him visiting her at her dorm. We found out from my daughter that his mom surprised her with a ticket so her son could visit my daughter. My daughter is excited about his visit and wants him to stay in her dorm. I am beyond upset at his mom and so is my husband. We feel she's over-stepping our parent boundaries just to make her son happy.
— Upset Mom
Dear Upset Mom,
I can understand you and your husband being upset that your daughter's boyfriend is going to visit her and stay in her dorm. The fact that her boyfriend's mother bought him a ticket, when she knew you were not comfortable with him visiting, is even more distressing.
Did the mom know about your feelings from your daughter or are you friendly with the mother? If you do know his mom well enough, you could call or write to calmly discuss your concerns. However, if you get angry or show your frustration, word will probably get back to your daughter and could make her upset with what she may see as you interfering with her life.
Do you like your daughter's boyfriend? Do you trust him and your daughter to act responsibly? The answers to those questions will help guide you as well.
There is a positive part to what is happening. Your daughter obviously is communicating with you openly about her relationship. There are daughters who would not tell their parents about the boyfriend's visit at all. You would not be upset because you would not know what was happening. So, keeping that open communication is very important and says a lot about the strong family values you have encouraged.
I think the most important thing is to figure out how best to maintain a good relationship with your daughter, and guide her to wise behavior as she seeks to become an independent adult.

Ask Dr. M. for Advice on Your Problem
Top of Page
— November 13, 2016 —
My 17-year-old daughter just told me she was raped at a party by someone she knows. She feels it was her fault. I told her, "you were raped, it was not your fault." She feels she should have handled it differently. I keep reassuring her it's not her fault. She told her then boyfriend about it. Last week he broke up with her, saying she couldn't be trusted and he is now back hanging out with the guy who did it. She is so sad, depressed, lost and doesn't know who to trust. She told me she had told her therapist and her therapist asked what she did to bring it on (the rape)—how she dresses, drinking, etc., I think that is a totally horrible thing to say to a rape victim. I am upset with the therapist for that and for not alerting her parents about something this serious. My daughter is a mess. Now friends are all talking about it and not being exactly supportive. I let her talk to me whenever she wants, no pressure. I have told her in no way is she to be blamed. How can I help? I'm always available to her. I need guidance for her.
— Sally
Dear Sally,
Suggest that your daughter report her rape to the police. Explain that no matter what else she did, if she did not give consent, she was raped and that was absolutely not her fault. And her therapist needs to be reported, too. What her therapist asked your daughter is inappropriate as well as unprofessional. It's great that you are available to discuss the situation with her but she might benefit from counseling by someone other than the therapist she had been seeing. Your daughter is dealing with a great deal right now since she has basically been abandoned by her boyfriend, her therapist, and her friends.

Ask Dr. M. for Advice on Your Problem
Top of Page
— October 29, 2016 —
A year ago I had an argument with another mom about our 13 year old daughters. The girls were supposed to go to camp and the other mom cancelled plans with my daughter so her daughter could go with another friend. This ruined the relationship between the parents and between the 13 year old girls. A year later my 17 year old daughter wants to date the girl's older brother. All the parents have agreed to let them date except my ex-husband, and he is forbidding it. Even though I still have issues with the boy's mother, I feel that denying it would cause more harm than good. He's a nice boy and has similar interests to my daughter. How do I convince my very controlling ex-husband to allow them to date, or should I respect his wishes? His only reason for not allowing it is his dislike for the mom.
— Jennifer
Dear Jennifer,
Why are you allowing your ex-husband to make the decision when the three other adults involved in this situation (you and the boy's parents) and the two adolescents (your 17-year-old daughter and the boy she wants to date) disagree with his decision (particularly since his decision is based solely on his dislike of the boy's mom)? You might want to tell your ex-husband that if he doesn't allow his daughter to date a boy she likes (and one who is "nice" and shares interests with her), the relationship that will suffer is the one between your daughter and her father.

Ask Dr. M. for Advice on Your Problem
Top of Page
— October 14, 2016 —
My 19-year-old son came out to me at 17—I admit I did not take it very well at first. It was a shock. But 2 years later and our relationship is very strong now and we are fine, and being gay is not my son, it is his sexuality and there is nothing wrong with that. But my son is now dating an HIV positive man. My son is only 19 and doesn't know what he is doing. He is too young to fully know the risks. I like his boyfriend, he is just a nice, normal 21 year old kid, but the HIV is a major concern for me. If he has HIV at the age of 21 does that mean he is the kind of guy who will be willing to take risks? My 19 year old son is not mature enough for this. What if he gets infected? My son's boyfriend told my son right away. Even though my son knew he didn't tell me. I found out when I found a bottle of medication in my son's car, didn't know what it was, so googled it. And had a panic attack when google told me what it was. I rang him, thinking it was him who was sick. And he was upset I knew! And told me it was not his, but his boyfriend's. I am angry my son would keep something like this from me. We are very close. Why didn't he tell me? And now he is mad that I am angry. He says it is none of my business. Am I in the wrong for being angry he didn't tell me? And what can I do to make sure my son knows what he is getting into? Or the risks and responsibility if his partner does get very sick? He is too young to be making this decision. I can't sleep and I am so angry and the worry is driving me insane.
— Concerned Dad
Dear Concerned Dad,
First, congratulations on building a strong relationship with your son that is not based on his sexual orientation needing to be like yours—but on his being your son. That's no small achievement! There are too many hard stories about parents and their children who have needlessly lost their important relationship because they couldn't find a way to get through this challenge. Congratulations also that you and your son have made your relationship stronger as a result!
It sounds like your son and his boyfriend are being responsible about the details of the issue. The fact that his boyfriend is taking care of his condition and told your son right away are both positive signs (just think how much easier it would have been for his boyfriend not to tell). However, they may be able to do more than they are doing to protect against transferring the disease, and that is really your concern. It is important that they continually improve their knowledge and awareness of these details—and since you are concerned, you should, too. It's 2016, not the 1980s: HIV infection has become "manageable" with treatment, although it is expensive and burdensome to manage, and complacency is the biggest risk. So naturally, education helps reduce the risk of HIV transfer. For example, choices can decrease risk, including the use of condoms, limiting drugs and alcohol, which might lead to riskier behavior, and reducing the number of sexual partners. Sexually transmitted infections increase the risk of HIV infection. In addition, the HIV negative partner can take Pre-Exposure Prophylaxis, while the HIV positive partner maintains their Antiretroviral Therapy. Your continued interactions with your son should be based on the positive relationship you have built. Don't feel insulted that he did not tell you. He rightly knew that you weren't prepared for that news. With that said, it doesn't mean you shouldn't talk with your son about your concern that he could become infected. However, do your research in advance of the conversation so that it can be an open discussion rather than seeming like you telling him what to do. Be clear that you like his boyfriend and appreciate that he was open about this issue, but that you care about your son's health and well-being because you love him. Handling it from a caring, open-minded perspective, you'll both learn a lot and further strengthen your relationship.

Ask Dr. M. for Advice on Your Problem
Top of Page
— October 5, 2016 —
My 18 year old daughter is quite attractive but has not yet had a boyfriend. Her mom and I are generally good with that but it's really starting to upset her. She sees all of her friends in relationships and it hurts her self confidence—like "what's wrong with me?" She has a strong will and isn't easily swayed by other types of peer pressure. Her situation is complicated by the fact that her sister is in a five year relationship and they don't get along very well. I want her to be happy with herself but I don't know what to say. Should I let my wife address this or is there something that a concerned and heartsick dad might be able to say?
— Heartsick Dad
Dear Heartsick Dad,
Your daughter would probably appreciate comforting words from her dad, particularly since it may be less typical than support expressed by her mom. Make sure that you focus on your daughter's feelings rather than on your own expectations or comparisons with her sister. Start by telling your daughter what you've observed in terms of her behavior, and give her an opportunity to talk about why she's unhappy and not as confident as she'd like. Listen thoughtfully to what she has to say instead of quickly jumping into problem-solving mode. But if she wants advice, brainstorm ideas with her.

Ask Dr. M. for Advice on Your Problem
Top of Page
— September 18, 2016 —
My 17 1/2 year old daughter went on her first date with a friend she's known for two years and that she's been hanging out with in an online game. This was two weeks ago. She was very excited and shared their plans with me. I asked for details about the boy and she happily shared. I wanted and expected to meet him but timing didn't work and they went out two more times in the past two weeks. Each time she kept in touch and gave me an update. Everything sounded fine. Then on Monday I got scratched by something between the couch cushions. It was an empty condom wrapper. Now understand, I'm a single mom with young kids at home. There's no situation or circumstance where you would find something like this in the house. I confronted my daughter and she came clean. It turned out that everything she told me was a lie.Yes, she lost her virginity and they didn't do anything she claimed. This guy was not a school friend like she led me to believe. In fact, he lives 4 hours away and he is not 18. She said he's 23 going on 24. I looked him up on Facebook. He looks like he's at least 35 or even 40. No other identifying info could I find to corroborate his age. I stayed calm and we talked. She understands and agrees that lying to me, endangering herself and that giving up her virginity to someone she just met for the first time in person were not good decisions. This was wrong and she's lucky something worse hadn't happened. However, she doesn't agree that online friendships/ relationships aren't real. She doesn't (or won't) understand that he's a predator and she's his victim. She's agreed not to see him again but she's angry at me for turning this into something dark and terrible. She refuses to talk anymore. I don't want to traumatize her further (since she was happy before) but I can't let this go. What should I do? Should I meet him first? If so, what do I say? Or just go to the police? Or let it go? Help!
— Traumatized Mom
Dear Traumatized Mom,
Since your daughter is almost 18, the situation is probably not one that the police could take action on. Try to understand why she lied to you—perhaps she didn't want you to be disappointed by her actions. And let her know that while you understand why she did not tell you the truth initially, lying makes it more difficult for you to trust her. Explain that it's normal to be attracted to someone who is different (older and more mysterious, for instance) than the people she usually spends her time with, but that doesn't mean she should be acting on her feelings so quickly. While many people today meet their spouses online, unfortunately there are also instances of predators who use the Internet to find their victims. Cliche as it might be, it's better to be safe than sorry.
Since your daughter is still living at home, suggest that if she's going to continue to date people she meets online, ask her to invite them to your house so you'll have a chance to meet them. Also, urge your daughter to spend time in a public place with a new guy until she (and maybe you) has had an opportunity to learn more about him. But, you should also encourage her to get involved in school and community activities that will allow her to meet a variety of people.

Ask Dr. M. for Advice on Your Problem
Top of Page
— September 5, 2016 —
My son is 18. He has always been very responsible. He swore off any girls because of his plans of entering into the military. Four months before he was to report for assignment, he meets his girlfriend who is still 17. He fell for her quick. Spending all his time with her and neglecting all his former interests. We had our first disagreement when I caught them behind a locked closed door at my house. We had many discussions (which were more like debates) in which I told him: "I want you to respect yourself, your girlfriend, her grandmother and me." I told him to give up his keys, his phone and be 18, or totally self sufficient and pay off in full. Or keep the phone and insurance at a "responsible" price and keep the car until you go active. When I enlightened him what the 18 "card" really looks like, he agreed to respect me in my home, but he bought himself a prepaid phone, yet he still has a phone that is added into the bill every month. He finally addressed that. Decided he just had a few months home, so he could take care of it when he went active. He never really had a curfew, but he always used to let me know where he was and he didn't go MIA on me. Then he started staying out all night without as much as a text. He claimed he just fell asleep watching TV at her house. I told him to start setting an alarm. He lives at home. It's common curiosity to call. I finally requested them meet with me, her mother and grandmother. I discussed the importance of him guarding his character, the girlfriend's and the girlfriend's grandmother. It doesn't look good to stay all night at their house, even if it is innocent (falling asleep while watching TV) which he gave me reason not to trust. They all agree, but it is short lived and he became more and more disrespectful toward me. Very short with me and harsh and rarely ever home. It gets to where I am forever trying to get him to respect me. They graduate from high school and he gradually moves in with his 17 year old girlfriend and her grandparents. At this point, I get to where I just try not to battle, for he has just a few weeks before he is to enlist. Well, the report papers were delayed due to budget cuts, with a new date of December, but he is told he can get report papers anytime. I think we all were banking on plan A (enlistment). It didn't happen. He is in limbo; Can't enroll in a semester in college, jobs are scarce (considering his departure situation), yet he was being too picky. He didn't want to work weekends, rather not work fast food and nothing real physical to ensure he doesn't do anything that keeps him from passing the next medical exam. But he did haul hay this past weekend.
I rarely see him, nor does he call me unless he wants something (borrowed my camera, needed to use the printer) But he is still driving a car in my name, paying part of the insurance premium. No way is he financially able to carry his weight at the girlfriend's grandparents. He admits he pays nothing. In my mind's eye my son should be dating this girl, not living with her at her grandmother's house. I would have no problem keeping with our financial agreement if he was living at home. I know I should have enforced this when he moved out. So here I am. I am not in agreement with this move. I am not enabling it. He wants to be 18, then so be it. He needs to go get his own car and get his own insurance policy. Or, he can move back home, date his girlfriend (not live with her), show some respect for himself, his girlfriend, his girlfriend's grandmother and to me and decide he can work fast food or at least volunteer somewhere. Otherwise, the most he will get from me is being allowed to drive the car to his delayed entry meetings once a month. Can I go back and put my foot back down?
— Now What
Dear Now What,
It is rarely easy to be the parent of an 18-year old because even good "kids" that age want to show they are independent, and feel they know more than their parents. Your son has shown you that what he wants right now is very different than what you want (and even different than what he wanted a few months ago) and he is going to do what he wants. He chose to stay with his girlfriend. He may not even see that as being disrespectful to you or to her and her grandparents. He may just think that is what he wants to do and he is 18, old enough to make his own decisions, so he will stay with her.
But you have made it very clear to your son that is not what you think. After reading everything you said, I do think that yes, you can go back and put your foot down. It is your car that you pay for, and you have every right to decide how it is used. I wonder, if you take away his ability to use the car except for the monthly entrance meetings, will the girlfriend's family have another car to loan him? If they do, then it probably won't matter to him if you take away the car. He can stay mad at you and not lose anything. If they do NOT have a car he can use when he wants, then he has to decide what he wants to do. Keep in mind that if you decide to take away his use of the car except for the monthly meetings, he may become very mad at you and feel you do not understand his feelings and how much he wants to be with his girlfriend.
As for his working, he may think he does not have to earn money if his girlfriend's grandparents are willing for him to stay there for free, and maybe even give him and his girlfriend money to go out sometimes. And if you allow him to use your car when he wants, he may think he doesn't need to work. But if he does not have money saved and needs to have pocket money for food and going out with friends, he will soon realize he needs to work. His need to have his own income will push him to work eventually.
Hopefully, the military service orders will come through in the next few months, and he will stay committed to that service. If that happens and he enlists, many of the problems you mentioned may solve themselves during his period of service. He will learn a lot about himself and responsibility during his service.
The bottom line is at his age, your son may not think it is important to have what you think is respectful behavior. I am sad to say that your opinion of him may not matter because he thinks that being his "own man" and having this girlfriend is more important. So, for now, you have to accept that you and your son may continue to strongly disagree.
What you also should think about is whether you can agree to disagree but leave things open enough that at some point in the future, you can get back to having a good relationship. I think it is important to stick with your own principles about respect and responsibility, and be firm about the car BUT also say you love your son and always will. I have seen so many parent-child conflicts with late teens and early 20's that wind up becoming good relationships again when the child matures toward adulthood. Sometimes, keeping that long view can help as you deal with really hard times now.

Ask Dr. M. for Advice on Your Problem
Top of Page
— August 20, 2016 —
I have lived with my girlfriend now for about 6 months. I have a big problem on my hands. She has a 17 year-old daughter going into her senior year of High School who has ADD. My girlfriend is 47 and I am 56. I have Parkinson's Disease. My anxiety has always been bad, and now it is horrible. So here's the issue—her daughter has never worked and has no drive or ambition to do so. She wakes up and watches TV all day. I saw on our cell phone she had texted her boyfriend every minute during the day for weeks. He works repairing the county roads. I tried to address this with my girlfriend and it did not turn out well. She got really defensive and made every excuse possible for her daughter's not wanting to work and the cell phone problem. I guess with my age I am old school where I had to work and earn money if I wanted something. I understand this is a much different time than when I was growing up. I also think that because of my age and medical condition it is stressing me out. My question is: Am I overstepping boundaries here? I have three daughters in their 20's. Your thoughts? Thank you!
— Bryan
Dear Bryan,
Blending families is difficult in the best of situations, and your situation is far from ideal. My best advice is twofold. First, figure out what is causing you so much anxiety. Remind yourself that this is the way your girlfriend and her daughter have lived for 17 years; you are still a "guest" in their dyad. If your girlfriend has no concern about her daughter, so be it. Second, it may be wise for you and your girlfriend to talk to a counselor about these concerns so that your relationship is not destroyed by the difference in your values. While you should not intervene with your girlfriend's daughter, you certainly can discuss this openly with your girlfriend. I wonder if moving in has also created more anxiety and increased your feeling of being out of control. Also, it may be advisable for you to talk to your doctor about your anxiety and see if there is a way to be treated medically so you don't have to suffer so much.
— Mrs. B.
Ask Dr. M. for Advice on Your Problem
Top of Page
— August 6, 2016 —
My 19 year old niece has announced that she is having her boyfriend move in with her into her college off-campus apartment to help with expenses. This is because her parents suggested she spend her money more wisely instead of constantly asking for handouts from them. She knows full well how much they disapprove of that. I am surprised and so disappointed in her childish disrespectful manner when talking to me about it. What can I say? Is there anything that gets through to 20 year olds these days. I would have never even suggested that to my parents 20 years ago.
— Aunt
Dear Aunt,
When you ask about getting through to 20-year-olds today, you're making a broad generalization. So let's just focus on your niece. While you can certainly let her know that you would like her to speak to you in a more respectful way, it will not help your relationship if you tell her how much you disapprove of her new living arrangements. If her parents are not happy about the boyfriend moving in, they can certainly tell their daughter how they feel but then they might have to come up with the extra money she needs.

Because feelings are involved, moving in with a love interest to ease financial stress confuses two issues. It's clear to me that your niece is trying to force her parent's hand, so if she cares about her boyfriend, a more responsible alternative would be to take a roommate—and it might even be fun.

Ask Dr. M. for Advice on Your Problem
Top of Page
— July 22, 2016 —
I have a stepson who is 16. His time is split betweens his mother and us. We are trying to instill values, respect, manners, etc. but when it is time for him to go to his mother's everything goes out the window. His mother does not punish his bad behavior. He is very disrespectful to her and does things that are not tolerated at my house. She does not hold him responsible for his actions. She has a lying problem and he has been lying for years. We punish him at our house for things he does but when he goes to her he goes back to her lax ways. Everything we try to teach him goes away by the time he comes back. His mother's priorities are set wrong and he is picking it up from her. How will he grow up to be a well rounded adult if she undoes everything we try to instill? I am at a loss. This has been happening for 9 years. What do I do when my husband's ex is toxic for my stepson? My husband agrees with me and we both have no clue how to handle this problem.
— April
Dear April,
The best way to handle this situation is for you and your husband to be role models for your stepson. Show him that honest and respectful behavior leads to better treatment by others. Reinforce those behaviors in him by making sure you comment about them, rather than criticizing him for negative actions. Keep in mind how difficult it is for your stepson to go back and forth between households with different values and expectations. You have no real control over what his mother does; you and your husband only have control over what you do. Continue to set positive examples and help your stepson see the benefit of that kind of behavior.

Ask Dr. M. for Advice on Your Problem
Top of Page
— July 8, 2016 —
My daughter just graduated high school. She will be 18 in August. She seems to think she has no rules and can come and go as she pleases. She has started hanging around a group of 17 year old boys and is never home anymore. She doesn't talk to us unless she wants something. She was diagnosed having ADHD and has been outright disrespectful towards both me and her Dad. We have always made sure she has always had everything she needs her whole life and for her to blow us off like we don't matter really hurts. I don't even want her around me anymore. This is how hurt I am by her behavior. She refuses to work full time, she won't pay her car insurance or cell phone bill. She gets angry when we try to tell her how we feel or what we see. She is making terrible decisions and will regret it later—but later is too late.
— Lyla
Dear Lyla,
Although it is normal to try to feel independent at age 18, it sounds like your daughter is doing so in a way that will be harmful to her. She is also at an age where she thinks she has all the answers even though she does not. The question is what can you do to help her. It sounds like you have tried to talk with her not just as a parent (telling her what to do) but as a caring adult (discussing what she wants out of life and what are the paths to getting there). It seems like she is focused on having immediate fun, which for her is hanging out with guys.
One question I have for you is why is she is hanging around with 17 year olds boys? Is it a group of boys she knows from high school? Does the group include some girlfriends, too? Do you think she is maybe insecure about being with boys, and this group makes her feel popular or special? This is important to think about because the answer gives you clues as to what you can do to help her.
Since she is not listening to you or her father—and that is not likely to change in the near future—I wonder if there is another adult that she might listen to instead. Is there someone closer to her age, such as a relative she likes or a friend who is handling life in better ways? If so, it would be great if she could talk to them. Maybe there is an older relative or family friend she is fond of and trusts. Or a an older cousin who she thinks is cool and who is handling life in a way you admire.
Whether or not you can get her to talk with anyone, if she refuses to work, then you should consider refusing to pay for her cell phone bill or car insurance. She needs to learn that if she wants to be treated as a responsible adult, she needs to take on some very basic responsibilities. You and her father have to agree to stick with whatever decision you make. If you say you will no longer pay for her cell phone, and then she comes back to you with promises she will change you cannot give in and start paying the bills again.
It is very hurtful to see your child, whom you have tried to guide for all these years and provide with a good life, treat you disrespectfully. It may not help you to know that many other parents of daughters and sons this age are going through the same thing. The best you can do is set limits on what you will tolerate, for your own sanity and for her becoming more responsible, and try to keep the lines of communication open.

Ask Dr. M. for Advice on Your Problem
Top of Page